HSJ is hosting a Twitter chat on 4 October, to ask if the NHS learns from its mistakes.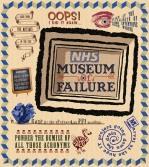 Last week Craig Barratt, executive director of transformation and innovation at Lancashire Care Foundation Trust, imagined a possible NHS Museum of Failure, in which the national IT programme, and hundreds of other policies, projects and acronyms were displayed for our edification.
He wrote: "We need to enthusiastically embrace the breadth, scale and frequency of failure at a national, local and personal level. We need to live and breathe the failure. Only then will we realise the scale of the challenge and the complexity of the environment we now work within."
Celebrating and learning from failure, he argued, could liberate the NHS from positive thinking so the potential pitfalls of future projects are weighed up in advance.
Craig will be on Twitter on Friday 4 October from 1pm to discuss his argument and consider to what extent the NHS already learns from its failures. Join in using the hashtag #HSJChat.