Join experts from the NHS Confederation to discuss survey findings
Accident and emergency is back in the news, and HSJ and the NHS Confederation are jointly hosting a Twitter chat to discuss it.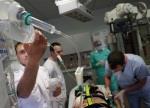 Surveys by the NHS Confederation have revealed the concerns of patients, nurses and health service leaders that patients have been put at risk by the strain on emergency departments. And the incoming chair of the Royal College of GPs has condemned the prime minister's £500m bailout as "voodoo med-economics".
Simply log into Twitter from 1pm on 11 September, #urgentcare#HSJchat
Join NHS Confederation associate director Karen Castille and experts from HSJ for a discussion on the latest turn in events. Is the NHS flying blind on emergency care, can community care ease the pressure, and is the government's response enough?