Any wait for an operation can be painful and damage health. But in the last decade there has been a steady increase in the time it takes to get round to operating on emergencies.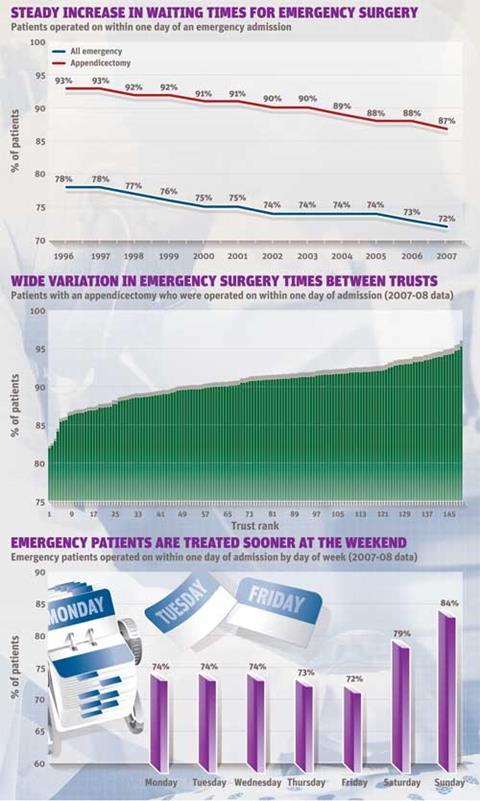 The first chart looks both collectively at a number of conditions and individually at appendicectomies. In the vast majority of cases included there is no benefit from a delay in definitive treatment.
Patients admitted for emergency procedures will always have to wait a certain time for their operation and for some a short spell of pre-optimisation may be of benefit. However, the pre-operative length of stay varies greatly between trusts. This is demonstrated in the second chart, which shows a variation in the percentage of appendicectomies for diagnosed appendicitis achieved in less than two days of admission. The question is: does this lottery in waiting times make a difference to outcomes?
Before the effect on clinical outcomes is considered it is important to note that the pre-operative delay alone, without taking into account additional days' treatment that result from a deterioration in a patient's clinical condition, costs the NHS£65m.
A longer wait is more harmful for some procedures than others. The natural course of appendicitis is a rupture of the appendix and a resulting life-threatening peritonitis. Statistical analysis of unchecked progression in the disease process shows a disturbing picture, with an increase in mortality linked to the delay in time to procedure.
Theatre time
The wait for an emergency operation ultimately depends on the amount of theatre time devoted to these cases. At present, the emphasis is on keeping waiting lists low and hitting targets such as length of time before cancer surgery. This can be seen, through anecdotal evidence, to cause elective cases to encroach on emergency lists, reducing the time available for true emergencies.
The third chart shows that at weekends a higher proportion of emergency patients are operated on within one day of admission. As there are fewer elective lists during the weekend in most hospitals, it is possible that this difference is caused by fewer elective encroachments onto emergency lists.
While there is no government incentive to improve on waiting times for emergency surgery, it is possible the situation will worsen as it seems to have done over the last 10 years.