Hertfordshire county council is on the verge of reporting one of the county's clinical commissioning groups to the health secretary for withdrawing £8.5m of social care funding to address its own financial pressures.
Hertfordshire's health scrutiny committee has recommended that full council approve a request to Jeremy Hunt to intervene on the grounds that the decision by Herts Valley CCG was made without consultation, would lead to a reduction in the levels of care, and would create further pressure on NHS services.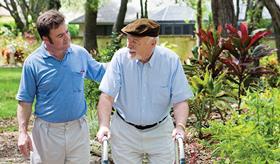 The CCG informed the council in December that it would be ceasing the funding from 1 April 2017 as it had entered "financial turnaround" with NHS England due to missed savings targets, an overspend against continuing healthcare budgets, and higher than predicted acute hospital activity.
The £8.5m contribution was added to the CCG's annual better care fund allocation to social care of £9.5m under an agreement in 2015 to maintain levels of care provision, Local Government Chronicle reports.
The CCG will continue to allocate the £9.5m but, according to a council report, it regarded the extra contribution as "discretionary" with ongoing arrangements to be set on an annual basis.
The health scrutiny committee took evidence from the CCG and other health organisations on 19 January before making the recommendation to full council.
Committee chair Seamus Quilty said the decision to ask Mr Hunt to intervene was indicative of "the severity of the impact on the health" of residents the withdrawal of funding would cause.
He said: "It is clear that this decision would put additional pressure on GP services, increase people's length of stay in hospitals, have a negative impact on admission and readmission rates, and is in stark contrast to commitments made to bring health and social care together to provide the best possible services to Hertfordshire's residents."
A meeting of full council will consider the committee's recomendation on Tuesday.
Herts Valley CCG has was approached for comment.
Source date
20 February 2017