High court judge says there was "no legal error" in major consultation process
Court judgement reveals change in tack by Wythenshawe Hospital chiefs
Judge says it was not necessary to inform public of "every potential contingency"
A high court judge has ruled in favour of health leaders in Greater Manchester, concluding there was "no legal error" in a major consultation process relating to emergency services.
Last July commissioners decided that Wythenshawe Hospital in south Manchester would lose its emergency and high risk general surgery service, under the Healthier Together reconfiguration.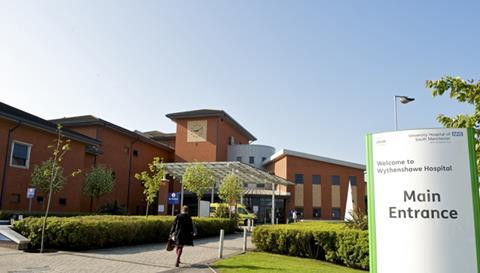 This was challenged by a group of doctors at University Hospital of South Manchester Foundation Trust, but a judge has today dismissed their claims.
The shake-up is seen as a key part of Greater Manchester's devolution plans.
Keep Wythenshawe Special, the company formed by medics to pursue a judicial review, is able to appeal the decision. It said: "We need a little time to consider what our next move will be."
The company claimed the Healthier Together team made errors by using an inconsistent travel standard, disregarding the existing quality and safety of hospitals, and a flawed travel analysis.
It also argued, along with the FT itself, that false guarantees had been made around the impact on co-dependent specialised services, as the trust could decide to withdraw some services if it was not satisfied they were safe.
This was disputed by Healthier Together and the judge concluded: "Be all this as it may, for the reasons I am about to give it is unnecessary to resolve this dispute, since I take the view that even taking the [UHSM doctors'] submissions at face value I am not satisfied that the consultation was unlawful as they allege…
"In order to be appropriately informed so as to provide a constructive response to the consultation it was not necessary for the consultees to be informed about every potential contingency which might arise."
The company's claims in regard to clinical co-dependencies were supported in court by Attila Vegh, former chief executive of UHSM, who resigned yesterday.
The court judgement also reveals a change in tack by UHSM just days before the Healthier Together decision was announced.
As previously reported, the trust stated its wish in June to join a single service with Central Manchester University Hospitals FT, effectively relinquishing its bid to be one of four "specialist" sites.
The judgement quotes a letter from the trust to Healthier Together on 3 July, which said: "We wish to clarify, on behalf of the board and our clinicians, the trust's ambition to be a Healthier Together specialist hospital. This is clearly different to the position set out in the update we provided with CMFT dated 10 June 2015, which this update supercedes."
Source
Source date
7 January 2016
Stevens fires broadside against 'institutional self-interest'
1

2

Currently reading

Manchester medics lose court battle over landmark reconfiguration