The chief executive of a major teaching trust in Manchester has resigned.
Attila Vegh's departure comes as University Hospital of South Manchester Foundation Trust awaits a crucial court ruling on its emergency services.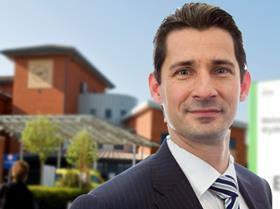 In a statement, the trust said Dr Vegh had resigned to pursue a "new leadership opportunity".
HSJ understands he will hand over to deputy chief executive Silas Nicholls this week, before an interim is appointed. It is unclear when the board received his resignation letter.
It comes days before a high court ruling is expected on the controversial Healthier Together programme, in which Greater Manchester commissioners decided UHSM's Wythenshawe Hospital would not become a "specialist" site.
Dr Vegh said: "I want to pay tribute to every single member of the UHSM team for their support and continued commitment to delivering safe, high quality care to all our patients.
"None of what we achieved would have been possible without our very talented team, which is some of the best in our NHS. I am confident that all the good work will continue and wish you every success in the future."
The Heathier Together decision meant UHSM would lose emergency general surgery services, although programme leaders stressed that other specialist services would be unaffected.
Dr Vegh and UHSM made the case in the consultation process that Wythenshawe should become a specialist site, but accepted the decision in July.
A group of doctors at the trust then formed a company to launch a judicial review, which was heard at the high court in December.
The FT's submission to the court, as an interested party, argued that other specialist services, such as cardiothoracic surgery, the specialist burns centre and services for adult patients with cystic fibrosis, would be "suboptimal" without the co-location of emergency general surgery.
It argued it is the "final decision maker" on whether these services could continue to be provided at Wythenshawe, so commissioners were not in a position to deliver their assurances that they would be unaffected. These arguments were disputed by Healthier Together and NHS England.
The Healthier Together process is seen as a key pillar of Greater Manchester's devolution project and has cost £12m.
One senior figure, who has been close to the reconfiguration, told HSJ that the trust's court submission caused some consternation among city leaders and meant Dr Vegh would have found his job "very challenging" if the judicial review were to rule against Healthier Together.
UHSM chair Barry Clare said: "Attila joined the trust at a time when it was facing significant financial challenges and breach of its licence.
"Having delivered the largest saving in UHSM's history he has led one of the best financial performances in the NHS. UHSM is now in the top 20 per cent of NHS organisations for both patient experience and staff engagement."
Source
Trust statement and information provided to HSJ
Source date
5 January 2015