Staffordshire STP outlines plans to close emergency department
Savings of £245m will be made by 2021, including service closures
STP aims to reduce A&E admissions by 20 per cent
An accident and emergency department will close in Staffordshire along with 100 community hospital beds, according to the Staffordshire and Stoke on Trent sustainability and transformation plan.
The STP, the last one in England to be published, has set out changes to the delivery of healthcare in the county, driven by a need to close a deficit gap by 2020-21 of more than £1bn if no action was taken.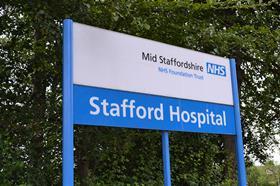 The solutions outlined in the STP will deliver £245m of savings.
The planned changes include ambitious reductions in non-elective activity, including a 30 per cent reduction in A&E attendances and a 20 per cent reduction in A&E admissions.
This will involve the closure of one of the three emergency departments in the county. While no formal decisions have been made, several sources close to the plan told HSJ the part-time A&E at Stafford hospital was the most likely to close and be replaced with a 24 hour urgent care centre.
As a result of the changes, Staffordshire would have an overall deficit of £361m between 2016-17 and 2020-21, which will need to be bridged. The region is seeking a Staffordshire-wide STP control total to help ensure the system works better together.
The STP document said: "Staffordshire and Stoke on Trent has been living beyond its financial means for a number of years and… has not been able to demonstrate significant improvements in aspects of health and care outcomes. The normalised health system deficit for 2015-16 was £157m. In addition, the health and care economy has already accumulated significant deficits that require repayment."
It said services at the University Hospitals of North Midlands Trust cost £100m more than its annual income and the challenge facing social care is "equally stark".
The financial challenge facing the county is despite of significant non-recurrent funding from the Department of Health and NHS England totalling £250m after the dissolution of the Mid Staffordshire Foundation Trust. This comes to an end in 2017.
The plan said: "By 2020-21, the healthcare system will be in balance, if the proposed solutions are delivered. Nonetheless, between 2016-17 and 2019-20, the system will continue to be in overall deficit, which will need to be bridged. Any opportunities to accelerate the cost savings, to alleviate this scenario, will clearly be rigorously pursued and may require more radical options."
To deliver the reforms the document says the region will need £120m of one-off revenue in the four years through to 2021 to help deliver £286m of recurrent savings.
The plan said: "We assume that the 2016-17 level of [sustainability and transformation] funding currently available to the Staffordshire and Stoke on Trent providers will continue in each of the next four years. It is recognised that this means that the STF will not be available to offset deficits as assumed in the recently issued 2017-18 and 2018-19 individual control totals.
"This will lead to a difference between the STP and the aggregate of the [individual control totals] in each of the next four years."
Key actions outlined in the STP include:
Cost improvement savings of £130m.
£27m reduction in agency spending driven by recruitment of more substantive staff.
Closure of 105 community hospital beds saving £4.2m.
Reductions in CCG overheads and back office staff of 15 per cent and removal of 10 per cent of provider back office functions including finance, HR, procurement and communications.
£4.3m savings from reconfiguration of minor injuries units with 75 per cent activity transferred the community and 25 per cent to local A&E.
Establishing a multispecialty community provide to deliver integrated community care.
Twenty per cent of inpatient orthopaedics converted to day cases at Stoke and Burton hospitals.
One per cent of "all other inpatient spells" converted to day cases.
A 5 per cent improved length of stay.
A 30 per cent reduction in follow up attendance and a 50 per cent cut in cost of follow ups.
A £6.5m saving from reductions in GP referrals.
The STP document said no assumptions had been provided to model the impact of mental health integration, and health and social care collaboration. It also did not include any financial savings on prevention and wellbeing.
Source
Information supplied to HSJ