Across the country real change is happening locally as health and social care services become more integrated around patient needs. Debbie Sorkin reports on this growing new trend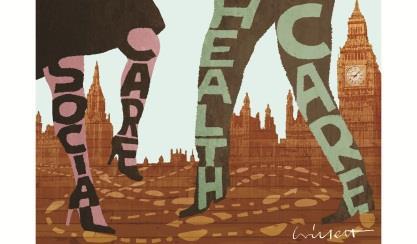 Karen George is a lead nurse in Shropshire, employed by the NHS. At the same time, she is lead nurse for care homes in the county and works with social care providers across the public, private and not for profit sectors. Ms George is the face of a growing trend, irrespective of vanguards, pioneers, accelerators or other initiatives. They are the quiet coming together of health and social care.
Shropshire Community Health Trust has taken the basic premise in the NHS Five Year Forward View – that services need to be integrated around the patient – and acted accordingly.
'We really put the patient at the centre'
It starts with the systems leadership tenet that people should be at the centre of services. So patients are using NHS services wherever they happen to be – and the service does not change if the location does.
For example, Ms George and her colleagues work with Coverage Care, a not for profit residential and nursing care provider working with older people, especially people with dementia. They make weekly visits to any resident in Coverage Care homes who is unwell, spend time with residents, and prescribe antibiotics and other drugs as needed.
A local consultant psychiatrist and his team are similarly funded through the clinical commissioning group to work with residents on a regular basis.
Reduced admissions
Coverage Care has been using this approach for more than five years and has witnessed a significant reduction in hospital admissions over the period. David Coull, chief executive of the organisation, makes the case for a local approach. He says: "The reality is that good continuing care is local, and better health services are managed locally, in partnership with the same local social care services."
Ms George is now working with a nurse consultant to enable social care providers to take more pressure off acute services, by developing skills for care workers. This includes training in clinical observations, so that care workers can spot potential signs of deterioration earlier and then enable action to be taken, where possible, to prevent hospital admission.
She is also working with a project nurse to train carers working in the growing domiciliary care sector in clinical and observational skills, so that they can spot potential risks early on.
'The reality is that good continuing care is local in partnership with local social care services'
Surrounding areas are starting to take an interest in Ms George's work, and she is currently in discussions with Dudley CCG about implementing her approach. In her words: "Working in this way, we really put the patient at the centre. And by focusing on the training of carers, in residential and domiciliary care, we can do so much more to reduce risk and enable people to stay in a home setting."
But the trend is not confined to CCGs. NHS trusts have taken the lead in working in partnership with social care, either to facilitate more timely hospital discharge, or to prevent admissions in the first place. There are some good examples in the way trusts in Liverpool and Manchester have teamed up with Community Integrated Care (CIC).
Specialist support
In Liverpool, Mersey Care Trust has developed a partnership with CIC and the council around a specialist service that supports people with mental health concerns to move on from living in hospital to a more independent life in the community.
The trust had found that people would be admitted to hospital with medical needs relating to their mental health, and remain in hospital for longer than required when their physical health was improved but their mental health meant they needed additional support.
This delay came at a cost of hundreds of thousands of pounds to the NHS. So it has worked to enable CIC to provide intermediate care, with a centre offering short term supported living as a bridge between leaving hospital and moving home or finding a permanent care placement. Where necessary, help can be provided to build independent living skills. This ensures that resources in the trust's wards are given to those who need them most.
'This is a partnership that enables people to make a successful return to independence'
The Liverpool Bed Management Team works with the service manager to secure long term placements for the people supported at the service. Many people have already benefitted by moving on to their own accommodation, or alternatively into support services ran by CIC and other care providers.
In north east Manchester, Pennine Care Foundation Trust has a long standing partnership with CIC to provide a 15 bed intermediate care unit, to offer short term intensive care and support to older people recuperating. This service relieves the pressures for acute beds in the trust, at the same time as offering a stepping stone for patients prior to them returning to the independence of their own home - the average stay being about 3-6 weeks.
On admission, outcomes are discussed and agreed and a person centred support plan created. Pennine provides onsite nurses, physiotherapists and occupational therapists and CIC provides 24 hour residential and support services. This is a genuine partnership, resulting in integrated support that enables people to make a successful return to independence.
A similar arrangement with University Hospital South Manchester FT involves a 25 bed unit with some dedicated purely to intermediate care, and others - described as "pressure beds" providing care and support for people awaiting care packages or adaptations to their home - and who would otherwise be in hospital. A prescribing nurse lead practitioner, funded through the trust, enables the service to admit people who have more complex, high dependency needs.
Delays not inevitable
We are all familiar with the problems surrounding delays in hospital discharges, and the attendant gloom as the numbers rise. But at the same time, there is evidence that this trend, whether in urban or rural settings, is neither inexorable nor inevitable.
In Clapham, south London, the local CCG works with Nightingale, a residential care provider for older people, through funding onsite medical services.
A nearby practice provides a doctor who attends five days a week, a senior nurse practitioner, a practice manager and pharmacy services. All residents are seen in the privacy of their own rooms. The outcomes have included lower rates of hospital admission and much faster hospital discharges. And there is a huge advantage for the home through having the ability to ask a GP to attend multidisciplinary team meetings for all their residents.
'We can pick up on any changes or deterioration in a resident's condition promptly'
At the other end of the country, GPs across Gloucestershire have been delivering an "enhanced" service for older people living in care homes over the past 18 months, resulting in a similarly significant fall in hospital visits and a 5 per cent reduction in unscheduled admissions. Nearly half the practices in the county have signed up to the initiative, which involves making regular, planned visits to care homes to deliver more personalised care for residents.
Bob Hodges, who led on setting up the service for Gloucestershire CCG, says: "By getting to know the staff, residents and their families, we can pick up on any changes or deterioration in a resident's condition promptly and ensure that the care we deliver is consistent with the expectations of each person we're looking after."
There is real change happening on the ground. Much of it is unsung, but that does not mean it is not there and cannot be learned from – people are happy to share knowledge and information about what they have achieved.
Sir Sam Everington, chair of Tower Hamlets CCG, has suggested having the equivalent of a dating agency for people looking to make change in their area, and wanting some initial guidance and advice from others. Some form of brokerage or a matchmaking agency may not be such a bad idea after all.
Debbie Sorkin is national director of systems leadership at the Leadership Centre. Contact her on Debbie.sorkin@localleadership.gov.uk or on Twitter @DebbieSorkin2