Former Guy's and St Thomas' chief executive to chair new board for Bristol, North Somerset and South Gloucestershire STP
Appointment part of a wider "refresh" of STP that is trying to close a projected £300m deficit by March 2021
Mental health, urgent care and MSK pathways likely to be priorities for service redesign
Sir Ron Kerr has been appointed as independent chair of troubled South West sustainability and transformation partnership.
The former chief executive of Guy's and St Thomas' Foundation Trust, who stepped down in 2015 after eight years leading the trust, is now chair of Bristol, North Somerset and South Gloucestershire STP's newly established sponsoring board.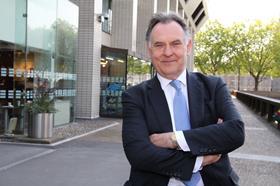 Sir Ron is the second recent appointment at the sustainability and transformation partnership, after Laura Nicholas started as programme director in April, and will support the STP lead, University Hospitals Bristol FT chief executive Robert Woolley.
An update to stakeholders last month, seen by HSJ, said the STP was "undergoing a refresh" including a review of current programmes based around prevention, self care and early intervention.
This will be overseen by the sponsoring board, comprising representatives from all 15 organisations in the STP, as well as Sir Ron and Mr Woolley.
Recommendations from the review are expected to go to the board on 26 July.
"Through this process and the priorities we will agree, we will have a clear strategic framework in place on which to build specific transformational change proposals that have a positive impact on the people we serve," the update said.
Likely priorities for service reconfiguration will include mental health, urgent care and muscular skeletal pathways.
The STP covers an area under severe financial strain and subject to range of regulatory interventions. Two of the STP's three clinical commissioning groups are in financial special measures.
All three CCGs in the patch, which are increasingly acting as one under joint chief executive Julia Ross, have committed to meeting a control total deficit of £8m in 2017-18, requiring savings of £83.9m – about 7 per cent of their revenue.
One of the patch's two big tertiary providers, North Bristol Trust, emerged from financial special measures after nearly a year earlier this month but remains financially challenged.
There is also an ongoing review into sustainability of services at the small Weston General Hospital, which in June was forced to temporarily shut its emergency department overnight amid concerns about staffing.
The area's STP, published in October, forecast a £305m deficit across the system by March 2021 if no changes were made.
The strategy for closing this projected deficit focuses heavily on reducing acute demand through greater provision of community and self care.
The STP expects 2 per cent of the area's funding through till 2020-21 and will need to be redirected to support the required changes.