Heartfelt appeals on whistleblowing and the EU referendum, a massive leak from BMA negotiations and the latest HSJ100 rankings all feature in our most popular articles of the year
January
Kicking off the new year, NHS providers were warned by the government that those which failed to "balance their books without compromising patient care" would face intervention which could ultimately "result in the entire board… being suspended".
The Department of Health highlighted that trusts' access to a £1.8bn national funding pot would be dependent on them meeting 2015-16 financial targets; taking actions linked to the Carter efficiency review; and being on course to achieve financial balance the following year.
Also that month, HSJ learned that Lord Carter was set to recommend that all hospital trusts' management and administrative costs be limited to 7 per cent of income by April 2018.
The recommendation was one of 15 in his report into hospital productivity, which was set to touch on almost every aspect of how the acute sector operates.
HSJ also carried an emotive column by whistleblower Sharmila Chowdhury, who appealed to the health secretary to resolve the injustices faced by many people who have dared to speak out.
She wrote: "In February you told the House of Commons that Sir Robert Francis had reported whistleblowers 'who were blacklisted from future employment in the NHS as the system closed ranks'. That has been my own experience.
"For six years, despite my qualifications and 35 years' NHS experience, despite my previously unblemished service record, I have been unable to find work in radiography or management. I have failed to get interviews; had interview offers withdrawn; even had a job offer withdrawn."
February
Ms Chowdhury's piece came just weeks before another whistleblowing story became our most read of the month.
A whistleblower had been dismissed just days after raising concerns about conflicts of interest in a clinical commissioning group, HSJ revealed.
A report obtained by HSJ said a manager at Barnet CCG had contacted the chief operating officer in 2014 to raise concerns about a "conflict of interest impacting on the CCG's commissioning of primary care services".
There were more revelations from HSJ when our research found that 15 trusts had applied for permission to pay at least one board member more than the prime minister's £142,500 annual salary.
A whistleblower had been dismissed just days after raising concerns about conflicts of interest in a clinical commissioning group, HSJ revealed.
The news came after the chief executive and chair of NHS Improvement said recruiting the right managers was the most difficult issue facing the provider sector.
Also in February, the chief executive of University Hospitals of North Midlands Trust resigned. Mark Hackett had decided to "move on" after 16 months in the job.
The trust would not confirm when Mr Hackett had handed in his notice but an acting chief executive had started with immediate effect.
March
Monitor and the NHS Trust Development Authority were moving ahead with an ambitious turnaround programme at 20 trusts, HSJ revealed.
The work would see consultants sent into the organisations to help with performance and governance issues. It would be the largest formal intervention by the regulators since Sir Bruce Keogh's review of trusts with persistently high mortality indicator rates in 2013.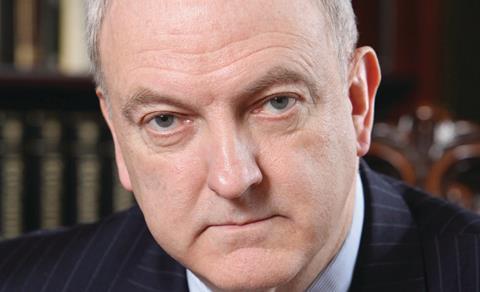 In the same month, we reported that the Department of Health had published a "learning from mistakes league", ranking trusts on their "openness and honesty" based on data on safety reporting and the NHS staff survey.
It was topped by Northumbria Healthcare Foundation Trust; followed by Oxleas Foundation Trust; The Royal Marsden Foundation Trust; Tees, Esk and Wear Valleys Foundation Trust; and Salisbury Foundation Trust.
And rankings hit our headlines again when Sir David Dalton was named as the leading provider chief executive in the NHS for the third year in a row, in HSJ's Top Chief Executives list.
April
The chief executive of a troubled south London teaching hospital stepped down, following intense regulatory scrutiny of the foundation trust's sudden financial collapse.
St George's University Hospitals FT confirmed that Miles Scott would resign from his role as chief executive to take up a secondment at NHS Improvement.
There was jobs news of a different type when we reported that the NHS would be given independence from direct political control and Simon Stevens would be named its first "governor general" under a government led by Boris Johnson.
Analysis by HSJ revealed wide disparity in the financial health of the newly created "sustainability and transformation" footprint areas.
The London mayor was widely believed to be preparing to run for the leadership of the Conservative Party were David Cameron to have resigned following a vote to leave the EU on 23 June.
Also among our most read stories of the month was one saying that some of the 44 new health systems for England could be in such deep financial trouble that they would struggle to plan their way out of deficit, according to policy experts.
Analysis by HSJ revealed wide disparity in the financial health of the newly created "sustainability and transformation" footprint areas.
May
The strategy adopted by junior doctors' leaders in their historic contract dispute with the government was revealed in a huge leak of more than 1,000 pages of private messages.
In perhaps HSJ's highest profile story of the year, the revelations included that the leadership of the British Medical Association's junior doctors' committee wanted to "draw this [dispute] right out" with "punctuated [industrial action] for a prolonged period" and tie "the DH up in knots for the next 16-18 months".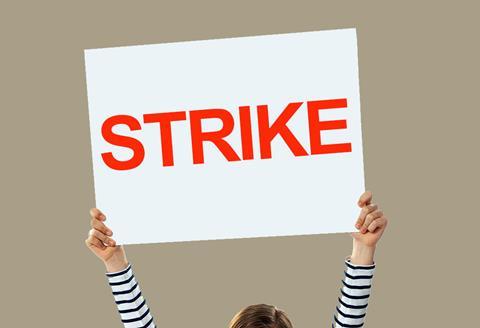 There was more turbulence in the same month when a major London teaching hospital was forced to suspend its acting chief executive amid serious financial allegations less than two weeks after the trust's substantive chief executive stood down.
An email to St George's University Hospitals Foundation Trust staff, leaked to HSJ, revealed Paula Vasco-Knight was suspended after serious financial allegations were made against her relating to a role at a previous employer.
Also in May, we reported that Simon Stevens had said the health service could create a form of "combined authorities" bringing together multiple commissioners and providers in order to simplify decision making and service change.
June
Our most popular article this month was an opinion piece, published as the EU referendum grew closer. Lord Darzi, Elias Mossialos and colleagues sought to redress what they said was a lack of evidence on the role of the union on our health system. Read their Five evidence-based reasons why the NHS is better within Europe here.
North Middlesex University Hospital Trust was led by Julie Lowe, who had been in post since February 2013.
The second most read story said that the Care Quality Commission had taken the unprecedented step of telling a chief executive they must improve their trust's accident and emergency performance. The CQC issued a press release with the subject line: "North Middlesex chief executive told to improve services in emergency department".
North Middlesex University Hospital Trust was led by Julie Lowe, who had been in post since February 2013.
More performance-related stories came in the form of a leader column by HSJ editor Alastair McLellan, headlined: Many CCGs are not fit for purpose and must be re-organised.
July
A new regime of "financial special measures" was announced for trusts and clinical commissioning groups to ensure the NHS lived within its means.
Five trusts and nine CCGs were put in the intervention regime, which forms part of a long awaited package of "reset" measures designed to get the NHS's finances and accident and emergency performance back on track.
The first five trusts to enter financial special measures were:
Barts Health Trust
Croydon Health Services Trust
Maidstone and Tunbridge Wells Trust
Norfolk and Norwich University Hospitals Foundation Trust
North Bristol Trust
The storm clouds kept rolling when NHS Improvement chief executive Jim Mackey then told senior managers the health service was "in a mess", in a stark warning on finance and performance issues.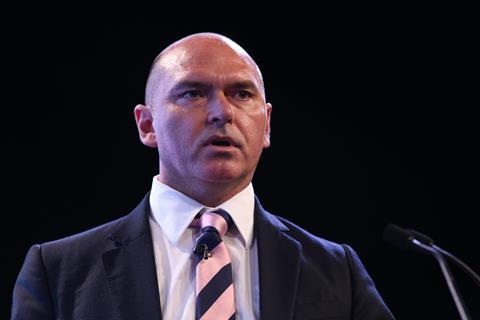 Mr Mackey was speaking at the regulator's conference and said there had been "five years of decline on all of the things that people would worry about".
He also reiterated previous comments about accident and emergency performance being a major focus for the service over the coming year.
And in politics, Theresa May implemented a substantial restructure of the Department of Health ministerial team as part of her wide-ranging reshuffle.
Health secretary Jeremy Hunt remained in post, but the new prime minister had announced a number of changes to the department's junior ministerial team.
August
It was announced that Katrina Percy was standing down with immediate effect as chief executive of Southern Health Foundation Trust. She said she had taken the decision because "the ongoing personal media attention" had made her role "untenable".
Ms Percy had been under huge pressure since the publication in December of a report by the audit firm Mazars, which highlighted failures at the trust to investigate and learn from patient deaths.
Also in the south, Brighton and Sussex University Hospitals NHS Trust was to be placed in "special measures" after the Care Quality Commission rated it inadequate.
NHS Improvement wrote to trust chief executives outlining the back-office and other services that should be included in their consolidation plans.
The regulator's report raised serious concerns with the trust's leadership and safety, and described a board seemingly in meltdown, with a lack of communication between senior leaders.
And in the same month, NHS Improvement wrote to trust chief executives outlining the back-office and other services that should be included in their consolidation plans.
September
Two senior officers left Southport and Ormskirk Hospital Trust ahead of disciplinary hearings over their conduct. Sheilah Finnegan, chief operating officer, and Sharon Partington, director of human resources, were "excluded" in August 2015, pending an investigation into allegations made by a whistleblower.
In August 2016, the trust said the two officers, along with chief executive Jonathan Parry, had "a case to answer" following a year-long investigation, and would each face disciplinary hearings.
Also in September, we revealed the shortlist for the 2016 HSJ Awards. The shortlisted organisations would next complete presentations and interviews to a judging panel made up of senior and influential figures from the health sector. The winners were announced at a prestigious ceremony on 23 November at the InterContinental O2, London.

There was more fanfare at our offices with the launch of HSJ Solutions, a searchable database full of best practice ideas that have been through the HSJ Awards judging process and are therefore peer reviewed. Users are able to access solutions that other organisations have found and already tested.
In the same month, two major acute trusts in Birmingham announced their intention to merge.
University Hospitals Birmingham Foundation Trust announced that it intended to create a "single organisation" with Heart of England Foundation Trust.
October
The 2016 HSJ100 revealed huge changes in the people with the greatest influence over the English NHS, with Simon Stevens stopping the list. There were 31 new entries, while 19 people saw their positions in the ranking drop by 10 places or more and 11 seeing a similar rise.
The HSJ100 was launched in 2005 and has become the benchmark by which to gauge the changing fortunes of the leading figures in the NHS and health policy.
Not winning an HSJ award was a senior commissioner who defrauded Bromley Clinical Commissioning Group of nearly £145,000 and was jailed for two years and three months.
It is judged by a group of experienced health service leaders and attempts to paint as accurate picture as possible of who will exercise most power over the English NHS and health policy over the next year.
Not winning an HSJ award was a senior commissioner who defrauded Bromley Clinical Commissioning Group of nearly £145,000 and was jailed for two years and three months.
Noel Morrow, 47, of Rivermead, East Molesey, Surrey, was convicted of fraud by abuse of position after authorising fake payments to two companies set up in his name.
November
The incoming chief executive of Royal Devon and Exeter Foundation Trust decided not to take up her post at the organisation. Julie Hartley-Jones, who was working in the Australian healthcare system, was announced as chief executive of the South West acute trust in July, and was due to start in January 2017.
There was more inaction when the leader of Staffordshire's sustainability and transformation plan resigned ahead of the five year strategy being published. John MacDonald, chair of University Hospitals of North Midlands Trust, stepped down from his role as STP chair.
And the month of workforce woe was rounded off by the story of an acute trust chair who had been declared bankrupt earlier in the year but failed to tell the organisation of this and stayed in post for nearly three months before stepping down. Museji Takolia, the former chair of Wye Valley Trust, resigned on 14 October – 11 weeks after he was declared bankrupt.
December
Our stop story said that four sustainability and transformation plan areas would spearhead system leaders' plans for regional back office mergers across the NHS, which could require significant changes to local governance structures.
The Greater Manchester, Kent and Medway, mid and south Essex, and north west London STPs have been selected to be "pathfinders" for the programme, HSJ had learned.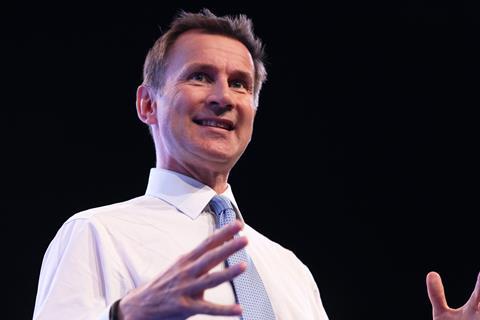 Our second most read story reported that introducing a general "manager class" in the NHS may have been "an historic mistake", according to the health secretary.
In a speech at the NHS Providers conference, Jeremy Hunt distanced the government from the reforms carried out after Roy Griffith's landmark report in the 1980s and said he wanted to see more managers with a clinical background working in the health service.
And finally, we reported that NHS organisations in Hertfordshire and Essex were unable to "accept" their control totals for the next two financial years, according to a sustainability and transformation plan leaked to HSJ.