New research into the role of hospital middle managers contradicts many of the negative stereotypes and highlights their value to clinical and organisational outcomes, writes David Buchanan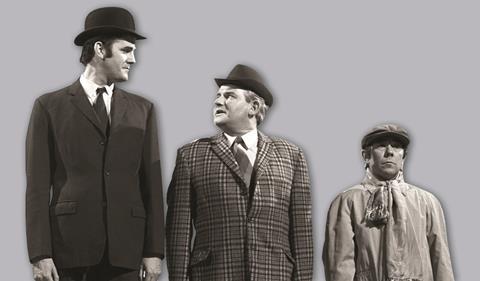 Middle managers are under pressure from a growing drive for change. They often have a negative stereotype and when things go wrong they get the blame.
'Managers maintain order while leaders drive change. Although they perform both roles, hospital middle managers are primarily change leaders'
More than 1,200 managers in six acute trusts were involved in the National Institute for Health Research's study over three years, through interviews, focus groups and a survey with 600 responses. The aim of the project was to find out what middle managers really do. Our findings contradict the stereotype of "pen pushers and bureaucrats".
Research in other sectors shows middle managers shape key decisions, act as intermediaries between front line and top team, and champion innovation and change. The evidence from our study shows hospital middle managers making similar contributions.
We looked at "hybrid" roles, combining clinical and managerial duties, as well as "pure play" managers (such as operations managers and department heads). Hybrids include ward sisters, matrons, lab supervisors, senior nurses, specialty leads and clinical directors. A modern matron said: "You'll hear people say 'management' in inverted commas, and I'll say, 'But you all manage.'"
More than 30 per cent of staff in an acute hospital have either pure or hybrid middle management roles. Hybrids outnumber the full-timers by four to one. This means that a hospital's management capacity is based on clinical staff who have little management training, and who do not see themselves as managers. Those hybrids also have to cope with competing clinical and managerial priorities.
Management motivators
Very few people are driven by a passionate desire for bureaucratic routine.The top five motivations for middle managers are: "making a difference for patients"; "driving innovation and change"; "doing a good job"; "feeling valued"; and "developing others".
In our survey, 75 per cent of respondents said that they were motivated by making a difference to patient wellbeing, 90 per cent were motivated by developing others and 94 per cent felt that their work made an organisational contribution.
Translating those motives into action, what do middle managers contribute to clinical and organisational outcomes? Some of their contributions are operational:
Maintaining day to day performance: keeping the show on the road, risk assessment, human resource management issues.
Firefighting: listening, problem spotting, rapid response.
Patient experience focus: ensuring that patient voices influence business decisions.
Managing external partnerships: working with local authorities, police and commissioners.
Middle managers are also change oriented, with 70 per cent saying that they got a "buzz" from the challenge of innovation. Their contributions to organisational change include:
Identifying and selling: spotting, designing and implementing service improvement initiatives; persuading others; working across internal boundaries.
Translating ideas into working projects: shaping suggestions from colleagues and outside sources.
Process and pathway redesign: lean methods, productive ward initiatives.
Facilitating change: taking risks, working with clinicians, rapid improvement events.
Troubleshooting: dealing with underperforming areas, finding and delivering cost savings, solving "wicked problems".
Leveraging targets: using dashboards and benchmarking to improve performance.
Developing infrastructure: IT, equipment and physical facilities.
Developing others: training, skills development and "getting people on board".
The textbook says managers maintain order while leaders drive change. Although they perform both roles, hospital middle managers are primarily change leaders.
Having to perform many tasks at the same time, working at full capacity and always economising, is known as "multiloading". The hospital management agenda is long and complex: patient and public expectations; cost improvements; burdensome regulation; external relationships; rising activity levels; physical facilities and IT systems; clinical engagement; human resource issues; patient safety and learning from serious incidents. This is a multiloaded "to do" list. Those issues compete with each other. They are all top priority all the time. Most involve major organisational changes.
'It is not surprising that managers talk about increasing workloads, long hours, fast pace, constant demands, the intensity of the work and the lack of "head space"'
Management is an open-ended role with no boundaries; there is always something else to do. The hospital middle management role is therefore one "without borders". Almost 70 per cent of survey respondents said that "my management responsibilities keep expanding". The lead nurse in an emergency department said: "I want to ask them, when they give me additional roles, 'What do you want me to stop doing?' We're plate-spinning all the time."
In our survey, 93 per cent of managers agreed with the statement: "I am expected to improve the service we provide despite resources being cut." But only 30 per cent said, "I have sufficient resources to carry out my responsibilities effectively." In addition, 58 per cent said that their role was unmanageable, 68 per cent said they did not have enough time for their management duties and 90 per cent said the focus on cost effectiveness had increased. More than half said that financial pressures were putting patients at risk.
It is not surprising that managers talk about increasing workloads, long hours, fast pace, constant demands, the intensity of the work and the lack of "head space". This is exciting for some, although it takes broad shoulders and thick skin. But this can also lead to fatigue, burnout, and mistakes. Pace and intensity have personal implications. Only a third said that they could maintain a satisfactory work-life balance, and half said that they had problems unwinding and felt exhausted after work.
Enabling environment
The capabilities that count in this multiloaded world include political skills, mental toughness, inter-professional collaboration, dealing with "soft complexity", performance management and financial skills. But however capable an individual may be, the organisation can get in the way.
Middle managers often find themselves in a "low trust, low autonomy" role, where the ability to make decisions about running their service is constrained by the interference of senior colleagues. Expressing a widely shared sentiment, a senior nurse said: "I'd like the autonomy to run my service. I don't need to justify putting staff on a ward. Let me run my business. The flexibility has gone out of the role. Everybody has a say in the running of my department." This is demotivating, and does not make good use of the skills, knowledge and experience of those who are affected.
Strengthening the role
Features that would strengthen the middle management role are common sense, timely information, good communications, streamlined governance, freedom to innovate and take risks, information sharing not constrained by "silo working", inter-professional respect, supportive support services, teamwork, and adequate resources. These features make sense but they are not common. Advice for the top team concerned with that enabling environment includes: "Do not meddle in operations"; avoid "panic of the week"; and "listen to middle managers who know more about operational issues".
'Middle management expertise is being underused, and it may be necessary to reconsider the balance between pure plays and hybrids'
Cutting management costs is a politically popular policy. The targets are the pure plays. But reducing their numbers does not reduce the scale and complexity of the management agenda, most of which addresses national policy imperatives. Cutting the pure plays shifts the burden onto untrained, part-time hybrids, diluting the time and energy available for patients. Juggling clinical duties with a growing management role may jeopardise the quality and safety of care.
Middle management expertise is being underused and it may be necessary to reconsider the balance between pure plays and hybrids. Symptoms of a lack of management capacity include: a "fire fighting" culture; regular "out of hours" work; busy diaries; cancelled meetings; staff performance issues not addressed; agreed actions outstanding for months; and using external management consultants.
In a climate of austerity, it is interesting to note that most of the actions that would strengthen the enabling environment for middle managers are free.
David Buchanan is professor of organisational behaviour at Cranfield University School of Management. The research underpinning this article was funded by the National Institute for Health Research's Health Services and Delivery Research Programme (SDO/08/1808/238). The views expressed are those of the author and are not necessarily those of the institute.