Alison Moore reports on how a nutritional support project at Imperial College Healthcare Trust won it the Acute Sector Innovation award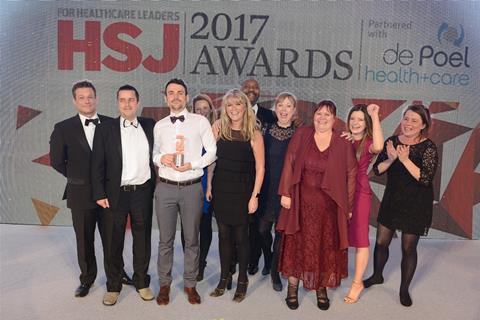 Ensuring that dementia patients get the food and drink they need is a challenge for every hospital – and can occasionally be overlooked in a busy environment.
The NoSh – Nutritional Support in Hospital – Project at Imperial College Healthcare Trust has helped overcome this by ensuring all patients with dementia are assessed and their weight, food and fluid monitored. They are offered nutritious food – including snacks on demand – and sugar-free squashes to encourage drinking.
Those with greater needs can be given one-to-one support, daily reviews by the NoSH team, and specific eating and drinking targets. More but smaller meals a day often work well for this group but the solutions are very much tailored to the individual.
Two healthcare support workers have been key in providing support to patients – and in presenting the project to HSJ's panel of judges when it won last year's award for acute sector innovation.
Person-centred approach
The approach is very person-centred and is aimed at reducing the level of malnutrition and dehydration experienced by people in hospital. Getting patients with dementia to eat and drink is often a challenge and these patients can experience dramatic weight loss during a hospital stay – which can mean recovery takes longer.
Lead nurse for dementia Joanna James admitted that the team did not expect to win but the eventual award affirmed that what they were doing was worthwhile. The judges were supportive and interested, she says. Having support workers present to the judges was a particular success.
As soon as a patient has a comprehensive geriatric assessment, there is a box saying refer to NoSH
"It made me think I would not be afraid to bring people who are relatively junior again. You tend to do the rounds when you are senior and presenting projects, but often you are not the people on the ground making something run or not run," she says.
"When we presented the project, it was really fun for us. The judges were so enthusiastic and positive. We came out of it feeling it was a really good project. It validated what we had done in a really nice way. We all came away feeling that we were glad we had done it – even if we did not win."
It gave them a chance to summarise what they were doing, she added. But she added that it was a learning experience for all – while other trusts have been in touch since Imperial won, and want to hear about the scheme, the Imperial team have also picked up tips from them.
And even if trusts are not in a position to implement the whole package, she says they could still do part of it – such as the snack boxes – and have an impact. As well as different snack boxes, patients may be offered special small portions, and the trust has taken a holistic approach to nutrition with opportunities to eat in a more social environment.
One invitation has been to present at a conference organised by the Soil Association focusing on dementia and food.
She also feels the award has deepened the relationships with Sodexho, which provides catering for the trust and was closely involved with the scheme. "It is really positive – now they are saying what else can we do?"
She says the decision to enter for the HSJ awards came when the scheme was being evaluated and a director suggested it. Now the approach is completely embedded. "I don't think anyone can imagine it not being there," she says. "As soon as a patient has a comprehensive geriatric assessment, there is a box saying refer to NoSH."
What the judges said
The judges praised the NoSH project for tackling a fundamental challenge in healthcare and for its innovative use of healthcare assistants throughout its work. It also commented on the good data and evidence base for the service, and the partnership with Sodexho, the catering suppliers. The use of "bento boxes" and finger foods was also seen as an interesting feature of the scheme.
The HSJ Awards 2018 are now open for entries. Click here for more information on the Acute Sector Innovation category or contact Chris Edwards, awards director, HSJ.