Post a question for our experts as they discuss how to improve the patient experience
Earlier this month we reported on how Sandwell and West Birmingham Clinical Commissioning Group had borrowed retail techniques to provide a better experience for its patients.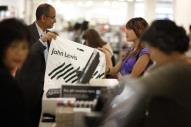 On 2 June at 1pm a group of leadership and experience experts and patient representatives will gather here on hsj.co.uk to discuss in detail what and how healthcare organisations should take from stores such as John Lewis, whether it is appropriate for the NHS to treat patients as "customers", and if the NHS can afford to deliver a premium service.
The discussion will take place in the comments below this article, so to take part all you need to do is post a question or remark here.
Online discussion
When: 2 June, 1pm
Where: In the comments at the bottom of this page
The experts
Kath Evans, head of patient experience, NHS England
Jules Acton, director of engagement and membership, National Voices
Mark Duman, non-executive director, Patient Information Forum
John Loder, senior programme manager, health and ageing team innovation lab, Nesta
Nicola Kingston, patient leader and Clinical Senate voice
Dr Peter Davies, consultant in diabetes and endocrinology, Sandwell Hospital
Ingrid Brindle, chair of Haughton Thornley patient participation Group
Claire Parker, chief officer (Quality), Sandwell & West Birmingham Clinical Commissioning Group
To post comments you need to be a registered user of hsj.co.uk. Sign up for free here.