Alison Moore reports on the award winning young onset dementia service that's improving lives for both patients and their families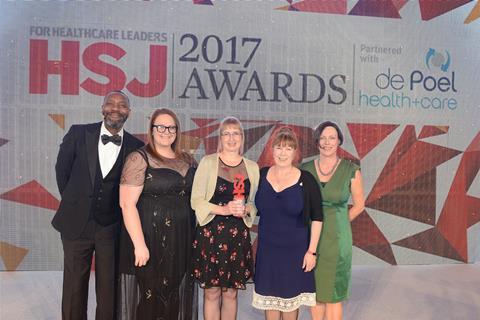 Dementia can be an awful condition to develop at any age – but possibly it is even more distressing and disruptive for those who develop it when still relatively young.
The young onset dementia service was developed by Cardiff and Vale University Health Board to meet the needs of those diagnosed with dementia before the age of 65, as well as carers and families.
It is the only health board in Wales with a full dedicated multidisciplinary service for this group with an inpatient unit – which won it the innovation in mental health title at last year's HSJ awards.
The service is also delivering cost savings – largely through avoiding external placements. The savings in the first full year was £590,000
Prior to the service being set up, people with young onset dementia received services from old age community mental health teams or were sometimes placed in specialist accommodation outside the area (younger more mobile patients with dementia can be a risk to older frail patients).
As well as taking them away from their family, these out of area placements were expensive. A 10-bedded inpatient unit for extended psychiatric assessment was set up and the money saved by using this has helped to fund other parts of the project.
A full multidisciplinary team with therapy and psychologist posts was set up, building on existing staff – a dementia case advisor, family support workers and consultant nurse and psychiatrist. The full team was in place by the end of 2015 and policies and a clinical care pathway were developed.
Improving lives
Key to the work is helping meaningful engagement with those with dementia, carers and families.
The needs of this age group may be quite different from older people so, for example, "walk and talk" groups have been set up and those with young onset dementia can also get individualised gym sessions, supported by a therapy technician. Carers groups, a cognitive simulation therapy group and post-diagnosis support groups have also been set up.
Specialist clinical review takes place at monthly outpatient clinics and there is also support for people with secondary mental health need, including access to a day hospital and acute mental health assessment as an inpatient if needed. The service works closely with the Alzheimer's Society.
The service is improving lives but it is also delivering cost savings – largely through avoiding external placements. The savings in the first full year was £590,000. It is also reaching more under 65s with dementia – many of whom were unknown to services previously.
Its caseload was 130 in mid-2017 compared with 27 accessing services six years earlier. There are likely to be around 160 more people with young onset dementia in the catchment area and numbers accessing the service are expected to continue to rise.
What the judges said
The judges praised the service for meeting unmet need and providing impressive continuity of care, including both community-based care and inpatient services. It offered a highly accessible service.
Sponsor's hopes for the awards this year
Elaine Bousfield, director of Xenzone, says: "I will be looking for exciting new ways of offering access to services–anything which helps people get help when they need it. We know that one of the problems for mental health services is that people can't get access to support when they need it. I'd also like to see some innovations in treatment approaches offering more flexibility and different delivery methods which put the person at the centre."
The HSJ Awards 2018 are now open for entries. Click here for more information or contact Chris Edwards, awards director, HSJ.