The executive medical director of the NHS Information Centre is an information evangelist but says patients' stories are as relevant as numbers.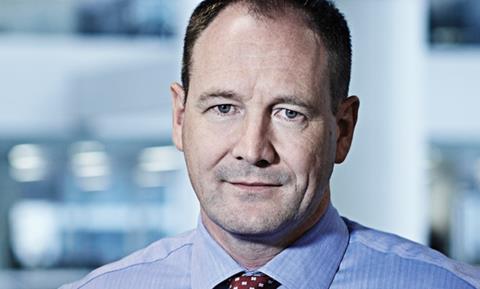 Dr Mark Davies, Executive Medical Director, Health & Social Care Information Centre, seen here at the NHS Litigation Authority offices in Victoria, 19th July 2012Commissioned by Jennifer Van Schoor for Health Service Journal
For a man who has held clinical leadership posts with such infamous projects as Choose and Book and NHS Connecting for Health, you might expect Dr Mark Davies to be preoccupied with data quality and information governance. In fact, he's much more likely to tell you a story.
Now executive medical director of the NHS Information Centre for Health and Social Care, he says: "Stories are information, too." And in his experience, stories point out the moral imperative to do the right thing for patients, sweeping aside the noise of clinicians' objections.
Take the example of work he led with colleagues on end-of-life care when he was medical director of an out-of-hours co-operative in West Yorkshire. He had been concerned about how to plan palliative care within unscheduled services. Why was it so difficult to access end-of-life care plans out of hours or to make injected morphine available ahead of the time when patients are no longer able to tolerate oral painkillers?
"We organised an event with the Royal College of GPs where half the meeting was GPs and district nurses and half was carers, patients and relatives with experience of palliative care," he recalls.
"There were some stories told where there was not a dry eye in the house - of deaths that had gone well and deaths that had gone really badly. The moral and professional imperative on clinicians to modernise services was unstoppable. All the issues around leaving drugs in houses in anticipation and sharing information and information governance that were difficult for us as professionals we found we could actually work through. All of these details were swept aside by the power of those patient stories."
It is an approach that he has taken in a variety of roles - always part time while also working as a GP and partner in a practice in Hebden Bridge in Yorkshire. He has been variously a clinical lead or medical director with the electronic booking service Choose and Book and NHS CfH. He was seconded to the NHS IC four years ago and for the last year has also worked with the Cabinet Office advising on open data and transparency. He is one of the people behind the move to make primary care records available to patients electronically by 2015.
"This is not a career I planned," he says. "But there is a theme that runs through this. I am interested in working in partnership with enabled patients and treating them as partners in terms of planning their care and designing services, evaluating services and improving them.
"The other critical theme is the importance of data and the central role that information has in helping us make evidence-based decisions and in understanding the impact of what we are doing."
Choose and Book was, he admits, challenging - the technology was difficult in a primary care environment with multiple system providers. Secondary care had problems with the taxonomy (describing their services so that they could be booked) and with the whole idea of managing demand in a proactive way.
"The principles that underpinned it were sound," he says. "Patients should have more control over decisions around their care. At the time, that focused on the where and when but it should also include the what and why. The idea that we should leave people at really emotionally difficult times not knowing what's happening and languishing on a waiting list is unacceptable. I would like to see a fully booked system where people can book their own appointments."
Even today only half of GPs use C&B, a frustration for Dr Davies given that the technical issues have been solved. "All my patients enjoy using it and it is a shame that more do not have that opportunity," he says.
Anger and frustration
The history of NHS CfH tells us clinical engagement was "too little, too late", says Dr Davies. "I have always taken the view that the real role of clinicians is around articulating the strategic priorities. In order to be effective you need to be there at the right point in the natural history of the programme and in CfH we were in too late."
Certainly the clinical leads - of which Dr Davies was one - took a lot of flak on behalf of the national programme for IT and he argues that he only survived it because he is a practising clinician.
"It meant I could understand the anger and frustration," he says. "The reason I survived that time was because I strongly believed in being honest and said that this is going to be difficult but if the advantages of making the change are going to empower patients then we have to overcome the challenges."
So no, he says, we do not have a national IT system as envisaged but there has been some good legacy that we should be proud of, not least around standards and infrastructure.
The NHS IC has not attracted nearly so much attention as CfH yet its influence on the NHS and the social contract between clinicians and patients is likely to be profound. Where other quangos have fallen by the wayside in the current reforms, the NHS IC is being strengthened under the Health and Social Care Act 2012.
It is being set up as a secure repository for patient identifiable data. The NHS IC plans to link patient data across pathways, develop outcome indicators, support benchmarking and inform research using pseudonymised data.
Dr Davies says: "I think this will unlock the power of the very rich asset that we have in the NHS and that underpins our activity. We have lots of data but it's lazy data. We have to make it work and turn it into actionable data - data we can do something with."
The challenge for the IC is not technical, says Dr Davies, but one of gaining the confidence of the public and professions that it is to be trusted.
"I do not wish to pre-judge the Caldicott Review [a review of the balance between information sharing to improve services and protecting patient information] but one of the questions that will go to the heart of this will be the power that patients have over their data."
Data scrutiny
As executive medical director, Dr Davies makes the case for the transformative power of information. "I think some of the things people do not understand around information is how powerful it is. For example, when you give patients access to their records, you change the social contract between patients and the service. You have moved the patient from being someone with a need to someone who is a contributor."
The same dynamic occurs at community level, too, he argues. He gives the example of Slough, where clinicians were aware that a large number of Asians probably had undiagnosed diabetes. Commissioners used geosocial mapping to target likely areas to find these people. Within six weeks they had increased the number of diagnosed patients by 285 per cent.
"You only have to think about the power of connecting people with similar conditions and using them to plan services to see how information can inform purchasing decisions."
He applies the same transformative argument around measurement of services - by which he means the triumvirate of outcomes, safety and patient experience described by Ara Darzi in High Quality Care for All. He says: "When we are systematically measuring quality and we are doing that in an open and transparent way, we change the nature of the relationship that services have with their patients and with citizens."
Professionals have a duty to measure, to compare and open up their data to scrutiny. "We talk about the purchaser provider split," he says.
"But I think that is the wrong purchaser and provider. It is the split between the tax payer and public services that is important. Our accountability to the tax payer and to communities is a critical step in us providing a modern, sustainable health service. The way to do that is opening up the data."
It is a powerful case when Dr Davies makes it - and he will need to keep making it again and again. So what does this kind of leadership take? "It is around clearly articulating the vision," he says. "When you describe things not in organisational or process terms but in patient terms, then the objections become secondary issues. Yes, you need to be absolutely pragmatic and acknowledge the challenge people have in their daily lives but you need to leave them in no doubt about what is the right thing to do."