Taking a systematic approach is vital because no part of the health and social care system stands in isolation, Chris Lake tells Jennifer Trueland
Project Domino, as the name suggests, is a strong reminder that no part of the health and social care system stands in isolation: knock any one element down and the rest will follow.
The winter planning initiative at Norfolk and Norwich University Hospitals Foundation Trust involves the acute trust, three local clinical commissioning groups and other organisations including social care providers. (See trust chief executive Anna Dugdale's interview).
This system wide approach is something the NHS Leadership Academy is keen to promote, says Chris Lake, head of professional development.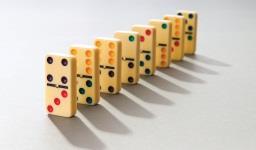 "Working across organisational boundaries is a challenge many leaders currently face and taking a systemic view to overcome demographic and financial challenges is vital.
"At the academy we believe we have an important role in developing systems leadership across all sectors delivering public services."
Piloting with partners
The academy has been working with regional partners in 25 pilot areas and, more recently, with partners across social care, public health and local government to launch the new systems leadership programme called Intersect. Run in conjunction with Leadership for Change, the programme is aimed at leaders in the public and third sectors and, as the name suggests, insists that participants look beyond their own organisations and sectors.
"The programme is looking for 40 individuals from around the country and across several different sectors," says Mr Lake.
'We have an important role in developing systems leadership across all public services'
"It's a recognition that you have to work beyond and across organisational boundaries to get anything really useful, really transformative done."
It is comparatively easy to manage a team, he says. What is tougher is to explore the community served by a system and ensure everything you do is based around their needs. "It's recognising that what you do has an impact on other parts of the health service and across a variety of organisations.
We all know that there's a domino effect, as they put in with the Norfolk and Norwich project. For example, we know that how an area is policed has an impact on [accident and emergency] attendances, but A&E has no control over policing."
The 40 individuals selected to take part in the year-long funded programme will come from a variety of backgrounds and might include local health service leaders or those on the cusp of director roles; senior local authority leaders and senior police officers, for example; or people from charities or the private sector.
But those involved will have to be prepared to throw aside preconceived notions about leadership and be open to a different way of thinking. "Instead of someone saying, 'How can I do my job better?' it's about how we do things together to serve our society," he says. "It's thinking differently about budgets and relationships, and tackling issues beyond one's own control."
The challenge is on
It might be challenging for some individuals, Mr Lake says. "It's about stepping away from one's own ego where one might say: 'I'm a leader, I did this', to saying: 'I'm a leader within a system of leaders'."
The programme will involve two five-day sessions at the start and finish, and four three-day sessions. The participants will work together - part of the time in a group of 40 and part in groups of 10, which will be carefully chosen to reflect and represent the complexity of the systems in which they work.
There will be two main learning strands and a third strand involving practical action with tangible outcomes. The first strand comes under group relations and involves exploring what is going on at a group level. Participants set their own agenda and decide how best to make use of this time.
Some may find it "discombobulating" but the absence of a specific task will mean they have to work at what is happening within the group, he says. The second strand is more content driven and involves exploring case studies of initiatives with strong cross-systems leadership, as well as lectures from academics.
The two strands provide an exciting mix of practical content and exploration of relationships. The groups will, over the course of the year, inevitably develop friendships, disagreements and emotions such as envy and pride - just as would be the case in real world cross-system working.
'It's about stepping away from one's own ego'
The third strand involves delivery. In many programmes, Mr Lake says, the outcome will be individuals who are powerful leaders, whereas this programme will demand a tangible demonstration of the power of working together to benefit the societies they serve.
Participants will have to deliver on a project, as well as evaluate and justify it, he says. "A deputy operations director in a hospital might start out talking about beds and capacity, but we would hope that after the programme he or she would be thinking further upstream and making connections with GPs, town planners and the police, being more proactive instead of feeding beds in an unplanned way."
It is all about making systems more effective and, above all, encouraging leaders to think beyond themselves and their organisations, and focus on those they actually serve.
"It's much easier to cut things up into discrete packages," he says. "But as can be seen in Project Domino, nothing stands alone," Mr Lake concludes.
Anna Dugdale: 'I want to support every member of the team'
1

2

Currently reading

Harness the domino effect to overcome organisational boundaries

3