The hospital chief heading a major government review has spoken for the first time about the reforms he thinks will be needed to accelerate the spread of new organisational forms across the provider landscape.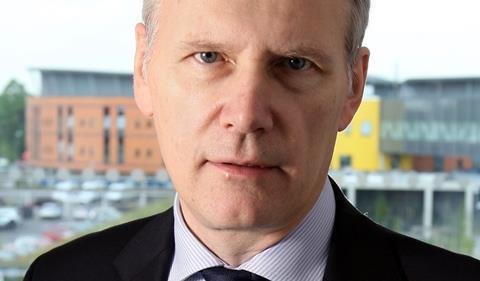 Picture: Lorne Campbell / GuzelianSir David Dalton, chief executive of Salford Royal Foundation Trust, Salford, Greater Manchester.PICTURE TAKEN ON MONDAY 19 MAY 2014
Salford Royal Foundation Trust chief executive Sir David Dalton has been tasked by health secretary Jeremy Hunt with finding ways to encourage the best NHS providers to take charge of the most challenged. Early ideas included the establishment of European-style national hospital chains.
But speaking exclusively to HSJ, Sir David said he hoped the review would offer NHS providers a series of new options.
Live Q&A with Sir David – 12pm 8 July
Alternatives could range from loose federations which share back office functions, joint ventures to share surgical services, to management franchises and national chains.
Sir David revealed his early thinking on what would be needed to entice outstanding trusts to take an interest in those in chronic difficulty, saying the review would consider:
how to create a system – dubbed "credentialing" – for accrediting a list of excellent providers that would be the go-to candidates to take on ownership or management of failing trusts;
the scope for temporarily ringfencing the balance sheets and performance metrics of excellent providers, so they could take responsibility for struggling organisations without immediately damaging their own performance;
"redeploying" the money currently spent on management consultants, turnaround directors and bailouts for failing trusts to create financial incentives for high-performing providers to get involved in their management; and
how to ensure competition rules – or perceptions about them – do not inhibit the development of new organisational forms.
Sir David said he hoped the review would reinforce "the need to create a system of consequence where successful organisations are rewarded and encouraged to spread their learning, their improvement and success into other areas".
"If you have great organisations and poor organisations, but you tolerate both, you don't intervene in the poor ones, you don't reward the successful ones, all you're doing is saying it doesn't matter if you're poor or great," he said.
"And that reinforces mediocrity. So I am personally attracted to systems that give recognition and reward to those organisations that are successful. I think that's a stimulant to then improving standards across the NHS."
One of the ways he hoped it could do this was through the development of a "credentialing" mechanism – a system for identifying the most successful providers, to create a list of the "go-to organisations" able to bid to take over or franchise their struggling counterparts.
He argued this would act as both a reward for successful providers – giving them an opportunity for growth – and as assurance for struggling providers or their regulators that any organisation brought in to fix their problems had the capability and capacity to do so.
What is the Dalton Review?
Launching the Dalton review in February, health secretary Jeremy Hunt said it would look at what "we need to do to enable our best hospital leaders to take over the running of hospitals in difficulty without compromising the success of their own trusts".
The Department of Health highlighted that the review would look at the barriers to development in the NHS of non-geographical "hospital chains", of the kind that are common in European countries.
However, the review team will in fact seek to establish the scope for developing a range of organisational forms that are not currently widespread in the NHS, but which it thinks might help providers meet rising quality standards and deliver seven-day services in the midst of an escalating financial squeeze.
These could range from the extension of the "buddying" arrangements that have been made for some troubled trusts, to management franchises, joint ventures to run single services, to chains.
The review panel had its first meeting in April, and is due to produce its final report in October.
Sir David said his "current thinking" was that if a provider was not on this list it would be very difficult for them to take over or franchise a struggling trust, although this did not rule out the possible need for "other solutions in particular circumstances".
He added that in the past such takeovers had been "neighbourly arrangements", in which a larger trust would "cosy up" to its struggling neighbour with the idea of taking it over.
However, if that larger trust "isn't itself successful" he did not see why it had the right to be the logical candidate "just because [it is] next door".
Asked if he thought the attractions of growth alone will be enough to persuade successful providers to become involved in the management of challenged trusts, he said he expected organisations would also need financial incentives.
Sir David described the money spent assessing failing organisations by management consultants, sending temporary turnaround directors into those organisations and "propping up" their balance sheets as "significant sums of money being spent on short-term solutions that could be redeployed as incentives".
The review would look at whether there was already "enough money in the system" and it was just a case of "redeploying it".
But he added: "If you've got organisations that have been credentialed… they're the ones best placed I think to support organisations in difficulty. If we can do it with the money in the system, fantastic. If we need to supplement it, I think that would be money well spent."
Asked what he thought the barriers were to high-performing providers taking an interest in weaker ones, Sir David said it was for the review to establish that. However, he thought they were likely to include successful providers' concerns about competition rules, and about weakening their own performance.
Dalton on:
Competition concerns "I see no reason why we can't describe the public interest differently to… 'diminishing of competition is always against the public interest'.
"That's one of the issues we will need to explore with regulators and the competition authorities"
NHS 'superheads' "I don't believe single heroic leadership - as in the superheads model - is the issue at play here. I think that's far too simple, and inappropriate in a healthcare setting"
Financial incentives for excellent trusts to help struggling counterparts "They need to be given the upside, the incentive to do that - and it's likely to be much more sustainable than spending money on short term assessments, turnarounds and propping balance sheets up"
"The review hasn't gone into that territory, so we'll have an open mind when we do," he said. "But my personal view is that organisations are unlikely to step into this space if they feel they're putting at risk their current performance, be that judged against [quality] standards or financial. They'll want to have some ability to protect the originating organsiation from the poor performance of one they'll have an interest in."
Financially, he said, there were two simple options for doing this.
One would use a management franchise model under which a successful organisation manages the weaker one for a fee but does not take ownership of its assets. Another would agree with the regulators to temporarily maintain two separate balance sheets "so you're not damaging the success of the acquiring organisation".
This latter approach could also be used to temporarily ringfence the performance metrics of an acquiring organisation, he suggested.
On competition, he said he thought the health service's "perception" of competition rules was inhibiting the development of new organisational forms.
"I think that in the minds of boards and chief executives there is a reticence [to consider] alternative models because they are perceived that they will be judged as anticompetitive, and therefore unlikely to succeed," he told HSJ.
Further details about the Dalton review can be found on the Salford Royal's website. Contributions or questions for the review can be sent to daltonreview@dh.gsi.gov.uk.
Exclusive: Dalton unveils plans for hospital reform
1

Currently reading

Exclusive: Dalton unveils plans for hospital reform

2

3