A commissioning chief and GP leader have criticised Jeremy Hunt's plan to introduce Ofsted style ratings for clinical commissioning group performance in a range of clinical areas.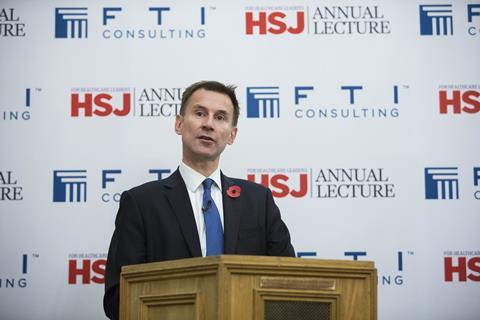 Jeremy Hunt HSJ lecture 2015
At the annual HSJ annual lecture on Thursday evening, the health secretary outlined plans to develop new ratings for each clinical commissioning group patch. The areas to be rated include cancer, dementia, maternity and mental health.
The plans were welcomed by some in the audience, but Claire Morris, chief officer at West Essex CCG, told the health secretary that her "heart sank" at the announcement.
She told HSJ after the lecture: "I think what's been proposed is not a helpful step forward.
"A broad set of baseline comparators does not take account of all the issues CCGs are contending with.
"We need a much more sophisticated approach towards how we get input from local people."
Maureen Baker, chair of the Royal College of GPs, also expressed concerns about the use of "aggregated scores".
She does not believe the proposals follow the recommendations of a King's Fund report, which warned against the use of ratings based on data.
She told HSJ: "It seems the benefits of that report have been potentially lost in the desire to use Ofsted style ratings. This is already a questionable approach to rating hospitals and GP practices."
Mr Hunt argued the plans were in line with the King's Fund recommendations, as the ultimate judgements for the ratings will be made by expert committees, including Harpal Kumar, chief executive of Cancer Research UK, and Paul Farmer, chief executive of Mind and chair of NHS England's mental health taskforce.
He said it could be "incredibly helpful" for CCGs to have an independent view on the quality of services, and stressed it would identify areas which are performing well, as well as areas for improvement.
He told her that it was likely CCG performance would be variable and would allow CCGs to learn from each other to improve which he said: "Is what this is all about."
HSJ annual lecture: Hunt defends plan for 'Ofsted style ratings' of CCGs
1

Currently reading

HSJ annual lecture: Hunt defends plan for 'Ofsted style ratings' of CCGs

2

3

4

5

6

7

8