NHS Improvement and CQC say providers will be judged on delivering "the right quality outcomes within the resources available"
Regulators promise to work together to send "single clear, consistent message"
New staffing guidance and "care hours per patient day" metric due
NHS Improvement and the Care Quality Commission have told trusts that quality and finances "cannot trump one another".
Jim Mackey, the chief executive of NHS Improvement, and Sir Mike Richards, the CQC's chief inspector of hospitals, have written a joint letter to NHS providers today telling them they will judged on how well they "secure the right finance/quality balance".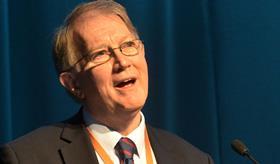 "We want to clearly and unequivocally state, with the full support of our other arms' length body colleagues, that your task as provider leaders is to deliver the right quality outcomes within the resources available," the letter says.
"That is how we will both measure success and that is how the NHS Improvement regulatory framework and the CQC inspection regime will be framed going forward," it adds.
The regulators promise to work together to send a "single clear, consistent message" to providers to help them deliver this balance.
"There has been a perception in the past that our organisations have had greater focuses on different sides of the quality/finance balance, potentially creating unhelpful mixed messages," they say.
To address this the regulators say they will jointly design the CQC's new approach for assessing trusts' use of resources and NHS Improvement's regulatory framework, with the CQC looking at how it can use financial data held by NHS Improvement to reach its judgements.
The regulators say they will share "revised national quality board staffing guidance" and a "new metric looking at care hours per patient day", which they will use to look at how trusts are managing their workforce.
Producing guidance for trusts on a "safe range" of "hours of care a day" is one of the things Lord Carter's review of NHS efficiency is currently working on.
The letter says one of NHS Improvement's early priorities will be working with providers with large deficits to return to surplus.
"There is an incorrect assumption that this can only be done at the expense of quality," it says.