Obese people and smokers in Hertfordshire face indefinite waits for routine surgery unless they lose weight or quit smoking
CCGs also restricted IVF, gluten free food, over the counter medicine and female sterilisation as they try to make £68m savings
RCS says "singling out specific groups of patients to save money is wrong"
People in Hertfordshire who smoke or are obese face indefinite waits for routine surgery unless they quit smoking or lose weight, commissioners have decided as they try to save £68m this financial year.
In a decision that could potentially affect more than a third of their population, East and North Hertfordshire Clinical Commissioning Group and Herts Valleys CCG said obese patients "will not get non‐urgent surgery until they reduce their weight" unless there are "exceptional circumstances".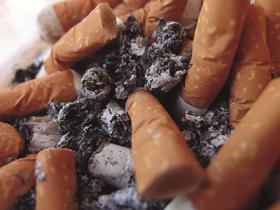 People with a BMI over 40 will need to reduce their weight by at least 15 per cent over nine months or to a BMI of less than 40. For those with a BMI over 30 the weight reduction target is 10 per cent.
Smokers will not be referred for non-urgent surgery "unless they have stopped smoking for eight weeks or more". Patients will be breathalysed before referral but a spokeswoman for the CCGs said "a switch to vaping would count as 'stopping smoking'".
The CCGs said: "In exceptional circumstances, clinicians will allow surgery to go ahead even if the smoking and weight loss criteria are not met. Exceptions would be made when waiting for surgery would be more harmful for the patient."
The spokeswoman added that at the end of the nine months any patient who failed to lose enough weight will have their circumstances "considered by a clinical panel". She did not deny that some patients could face an indefinite wait for elective operations.
The CCGs estimate 15 per cent of their population smoke. They did not provide an estimate of how obese the population is but government data from January said on average, 27 per cent of adults in England are obese.
Ian Eardley, senior vice president of the Royal College of Surgeons, said: "These CCGs admit these policy changes are part of efforts to tackle financial challenges within the area. Singling out specific groups of patients to save money is wrong. We are not aware of any clinical evidence to suggest patients are more likely to lose weight if the NHS denies or delays treatment.
"Such policies also delay access to the relevant specialist, for example an orthopaedic surgeon in the case of a hip replacement, who should be assessing a patient's need for surgery. We urge these CCGs to urgently rethink these policies."
In a forward to the consultation outcomes paper, the CCGs' chief executives said the region faced a £550m health and social care funding gap by 2021 unless they took action.
Beverley Flowers from East and North Hertfordshire and Kathryn Magson from Herts Valleys, added that the latter "faces a particularly pressing financial challenge" as it was placed in financial special measures by NHS England at the end of 2016. It announced in June that it needs to save £45m in 2017-18 to break even. East and North Hertfordshire needs to save £23m this year.
Ms Flowers and Ms Magson said: "It is vitally important that we encourage our residents to take more responsibility for their own health and wellbeing, wherever possible, freeing up limited NHS resources for priority treatment".
A local acute trust and council are against the measures. St Albans City and District Council's health and wellbeing partnership said in its response to the public consultation the restrictions would set a "dangerous precedent… for future health care changes and savings in the district".
West Hertfordshire Hospitals Trust medical director Michael van der Watt, wrote to the CCG to say there was "significant opposition" to the proposals at the trust. He said: "There is a wealth of evidence that does not support the theory that worst outcomes occur in patients with a BMI greater than 30". A consultant at the trust called the measures "discriminatory".
The CCGs also decided:
to reduce funding for IVF from three cycles to one for patients who meet the criteria (the IVF restrictions will also be implemented by West Essex CCG);
female sterilisation will only be funded in exceptional circumstances;
gluten free food will not be available on prescription for most patients who need it; and
over the counter medicines will no longer be prescribed except in exceptional circumstances.
The CCGs were unable to say when they would start to implement the new criteria.
Source
Information provided to HSJ