South Warwickshire Foundation Trust has transformed its services to meet the needs of older people. Ian Philp explains the reasons for the changes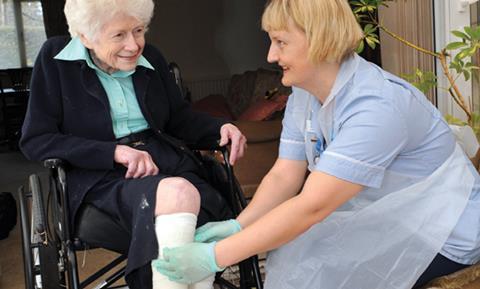 South Warwickshire FT established four principles for improving outcomes in older people's care
Following the transfer of community health services to South Warwickshire Foundation Trust in April 2011, the trust has invested heavily in acute and community services for older people. We have developed better alignment of acute and community services as part of our vision for integrated care across the region.
A review of the evidence about interventions to improve productivity and outcomes in older people's health and care helped us establish four principles for transforming services:
get in early;
invest in alternatives to acute hospital care;
provide acute care by old age specialists;
discharge to assess.
These principles have been put into practice in a number of linked projects.
Get in early
We used additional finance for a national demonstration project for the Department of Health's common assessment framework programme to develop an electronic shared assessment system for health, social care and the third sector in the assessment and response to the needs of older people.
A single assessment instrument, EASY-Care, has been designed for use by each sector, replacing a collection of locally developed assessment instruments that had overlapping content. EASY-Care provides a holistic assessment of the needs and priorities of older people. These cover seven domains where early intervention can counter threats to health, independence and well-being:
seeing, hearing and communicating;
looking after yourself;
getting around;
safety and relationships;
accommodation and finance;
mental health and well-being;
staying healthy.
Following an assessment, the service response is based on the priorities of the older person, in many cases with their needs met through the provision of advice and support in the third sector. Information is stored on a shared database that can be accessed by others involved in the person's care. Data is also available to support population needs assessment.
Outcomes from South Warwickshire community service redesign
Before changes
After changes
Improvement
Inpatient beds on Nicol Unit (Stratford-upon-Avon Hospital)

24

18

↓ 7

Throughput, discharges per bed per year

11.4

15

↑ 31.5%

Average length of stay

33 days

22 days

↓ 33%

Proportion of admission prevention (step-up beds)

29.5%

41.5%

↑ 12%

Length of multidisciplinary team meeting

90-120 mins

45-60 mins

↓ 60 mins

Use of medication: proportion of patients receiving sedatives and antipsychotics

60%

25%

Use of medication: proportion of patients receiving antipsychotics

20%

5%

Falls per 100 bed days

12.5

10.3

↓ 2.2
Average urgent admission prevention referrals accepted by community emergency response team

3 per week

9 per week

↑ 6 per week

Total numbers seen by community emergency response team

150 (predicted from baseline)

559

↑ 409
This project will now move from the design and testing phase to large scale implementation. Evaluation of the first phase has shown high levels of acceptability to older people, both in terms of ease of use and value of the assessment to help them maintain their health independence and well-being. This project is our key driver for ensuring the long-term sustainability of services by extending healthy active life in old age and reducing morbidity (and therefore the need for service) prior to death.
User experience of early intervention
User expectations
78.1 per cent of users thought the assessment was either better or about what they expected it to be.
Ease of use
87.5 per cent of users felt the self-assessment was easy or very easy to complete.
Outcomes from community service redesign
90.6 per cent of users were overwhelmingly content with the amount of time taken to look at things that were of concern to them.
Responses to questions
75 per cent of users felt the questions covered all the main areas that concerned them about their health and well-being.
Attractiveness of the help and information service
75 per cent of users felt the information given to them was very useful or quite useful.
Future potential and sustainability of the system
75 per cent of users said they would recommend it to people they knew.
21.9 per cent said they would consider recommending it.
Alternatives to acute hospital care
Following early successes in North Warwickshire with a five-a-day early supported discharge service, we built on this model in South Warwickshire in close partnership with adult social care and primary care. It has been easier and faster to integrate acute and community services in South Warwickshire due to all the services being run by a single provider. It has enabled us to create a new divisional structure and allows greater investment in these services.
We changed our model of community hospital provision to one that gave greater emphasis to step-up short stay care for patients not requiring the full diagnostic and treatment services of the acute hospital. We rationalised medical care so daily ward rounds would be provided by one practice rather than many individual GPs.
Outcomes from South Warwickshire acute care redesign
Measure
Improvement in older patients
Discharge directly from medical assessment unit
7% increase
Mortality
15% reduction
Readmissions
3% reduction
Discharge to nursing homes of those previously living at home
15% reduction
There is also weekly input from a consultant geriatrician to a multidisciplinary case conference. We reduced the number of beds in our community hospitals so more focused attention could be given to a smaller number of patients, releasing resources to invest in our home-based community services.
In the five months since the changes were introduced, outcomes for patients are much improved
Cristina Ramos, a GP in South Warwickshire, said: "The new model enables us to provide the best possible care for our patients in the most appropriate setting. The community teams and reablement provide support which helps prevent unnecessary acute admissions especially in cases where intense, short term support is all that is needed to keep the patient at home.
"The increased emphasis on step-up has made it possible for all local GPs to benefit from a community service that allows more complex cases to be managed closer to home and in a unit that provides a multidisciplinary approach with access to secondary care support and advice."
We worked in partnership with adult social care services to align the work of immediate care and reablement services, creating local teams with the capacity to provide a rapid (two-hour) response to a frailty crisis with an older person and to meet the needs of patients who would benefit from early supported discharge from hospital. Evaluation of the project in South Warwickshire showed impressive gains in productivity and clinical outcome.
Acute care by specialists
We expanded our old age specialist teams so that we could provide daily old age specialist reviews in the medical admissions unit. We converted three wards, previously used mainly for "outliers", into consultant-led old-age specialist assessment wards, with direct transfer from the unit.
Most patients are now transferred to their appropriate specialty ward and stay there until discharge. These changes have reduced ward moves and have helped improve patient flow and outcomes. Some patients who would otherwise have been admitted are now discharged from unit for community-based care.
In the five months since these changes were introduced, outcomes for patients are much improved from the same period in the previous year, as shown in the table.
Discharge to assess
Building on the good relationships with colleagues in social care and primary care, developed in our joint work in early intervention and community service redesign, we were keen to establish clear rules for the responsibility of patients with complex needs following acute care. A key principal was that discharge from acute care should not be delayed to assess needs for further support. Our community teams would therefore accept patients for a supported discharge package for community based assessment. Pathways were agreed so responsibility for care would transfer to social care after agreed periods for each pathway.
We will evaluate the impact of following these pathways on patterns of service provision and will use this data to create a contracting framework to share financial risk and benefits among the trust, the county council and the clinical commissioning group.
Jenny Wood, head of social care and support, says: "Creating a system where involved organisations deliberately help each other, where difficult conversations on risk sharing can be constructively brought to fruition and where commitment is genuine, have been key aspects. For social care, this has enabled us to develop highly performing reablement services with the support of health investment and establish coherent joint plans to reduce the need for long-term social care services. Overall, this is resulting in the delivery of better outcomes for the people of Warwickshire."
'To move beyond the rhetoric of integration, it is essential to build relationships and trust'
The redesign of services to meet the needs of older people is complex. More integrated care is correctly seen as the right general approach. To move beyond the rhetoric of integration, it is essential to build relationships and trust through inter-agency work on strategy, operations, clinical care and information systems. This is not a simple or quick task. It requires sustained leadership from all parties. However, we are now seeing the benefits of this approach in our productivity and patient outcomes.
Jane Ives, director of operations, adds: "The impact on our performance has been considerable. In 2010-11, we only achieved the A&E target in one quarter; however, our year-to-date performance for 2012-13 is 97 per cent, despite an 11 per cent increase in adult emergency admissions. Our length of stay has reduced by 10 per cent.
"We anticipate the full rollout of the discharge to assess model and the shared assessment system will further reduce length of stay. It will also provide the environment that aligns, and over time integrates, health and social care provision to provide better outcomes at lower cost."
Professor Ian Philp is medical director of South Warwickshire Foundation Trust