The national director of patient safety Mike Durkin, prominent patient safety campaigners and leading trust chief executives have been confirmed as judges for this year's Patient Safety Awards.
Trust chief executives on the panel include outgoing Nottingham University Hospitals boss Peter Homa; Wrightington, Wigan and Leigh Foundation Trust's Andrew Foster; and Kathy Byrne from Royal Cornwall Hospitals Trust.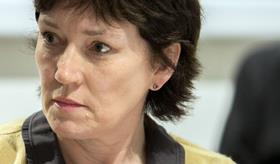 James Titcombe, a patient safety specialist for Datix whose campaigning exposed poor care of mothers and babies at Morecambe Bay, and the founder of Patients First Kim Holt are also judges for the 2017 awards.
Other judges include NHS Improvement nursing director Ruth May; Royal College of Emergency Medicine president Tajek Hassan; and NHS Improvement head of patient safety Frances Healey
The awards recognise and reward outstanding practice in the NHS and independent providers to improve patient safety, across 21 awards categories including 10 new ones for 2017.
The deadline for entering the awards has been extended to 9am on 30 January.
The winners will be revealed at the Patient Safety Congress in Manchester on 4-5 July.