Independent review finds family's fears over cause of death were correct
Report criticises "closed culture" in the NHS that prevents complaints being heard
CCG says it will act for family to secure a second inquest
An independent investigation into the death of a three-year-old boy at Stafford Hospital in 2014 has called for a second inquest into his death and heavily criticised a "closed culture within the NHS".
The report by consultant paediatrician Martin Farrier, released today, supported the parents of Jonnie Meek, who died at Stafford Hospital's children's unit last year, saying their suspicion that Jonnie died as a result of a reaction to a special milk feed was the most likely explanation for his death.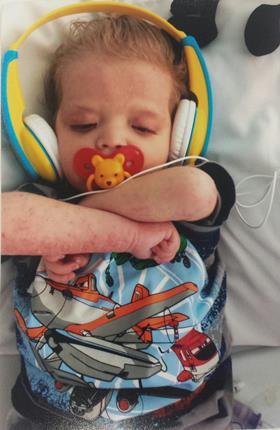 This had been denied by a trust investigation, a post-mortem and a coroner's inquest that ruled pneumonia was the apparent cause of Jonnie's death.
Cannock Chase Clinical Commissioning Group said it accepted Dr Farrier's report and, in a rare move, said it was prepared to act on behalf of Jonnie's parents to secure a second inquest.
Jonnie, who was born with rare congenital disability called de Grouchy syndrome, died on 11 August 2014 just over two hours after being admitted to hospital to trial a feed directly into his stomach. He had previously had bad reactions to the same feed.
After his death his parents pursued their complaint, revealing inaccurate information and documents about their son – prompting the CCG to ask Dr Farrier to review the case.
Dr Farrier, an associate medical director at Wrightington, Wigan and Leigh Foundation Trust criticised the Mid Staffordshire Trust, which was dissolved in November 2014, for its failures to consider the concerns from Jonnie's parents.
He also criticised a second trust, which HSJ understands is Derby Teaching Hospital Foundation Trust, over difficulties in interviewing a nurse who cared for Jonnie before his death and who now works at Derby.
He wrote: "Two different trusts. Two different times. Neither trust had a reason to hide. Both responded in the same closed, unhelpful manner.
"The NHS has been widely criticised for this behaviour. I found myself in the same position as Jonnie's parents. On the outside, unable to find a way in to ask simple questions. Blocked by fear."
He concluded: "I consider that problems of a closed culture within the NHS continue to exist. Expectation of blame leads to defensive behaviours. There should be an expectation within NHS organisations that they will openly cooperate with reviews of care performed within the NHS."
Derby Teaching Hospitals spokesman said the trust encouraged the nurse to seek guidance from her union and it would always encourage staff members to participate in investigations.
He called for a national review of how child death overview panels operate to ensure they hear "the voice of the family". He accepted information received by the Staffordshire CDOP, including the views of a healthcare assistant who was with Jonnie when he died, was not correct.
The report said: "In Jonnie's case the CDOP group recorded only what had been already concluded. They missed an opportunity to resolve a conflict. They were adequately powered, but only arrived at the finish. There is an opportunity for CDOPs to develop a greater role in the overview of child deaths. In order for them to achieve this, they need to be actively involved from an earlier stage, and they need to hear the voice of the family. If they had, then they could have been a powerful advocate for Jonnie's family's concerns."
Although Dr Farrier concluded there was no evidence of a conspiracy, he added: "Throughout the story there is another narrative. It is one of convenience. The finding of pneumonia by the pathologist was convenient. It meant the professionals involved not needing to consider other issues. It was accepted by all those involved other than Jonnie's family."
Dr Farrier told HSJ he agreed the role of an independent medical examiner, a key recommendation from previous healthcare inquiries, could have made a positive difference.
Jonnie's father John Meek told HSJ the family still had concerns about the way hospital staff responded on the day Jonnie died, but said he was pleased with the report's findings.
He said today was a "bittersweet day", adding: "It's the outcome that we needed, to get to the real truth. This could have all been settled 12 months ago but now we can hope something good will come out of this."
Mr Meek also praised Julie Bailey from the local Cure the NHS campaign group for her help and support.
Andrew Donald, chief officer at Cannock Chase CCG, told HSJ he accepted the report and its recommendation. "We feel a responsibility to the family to get to the truth. We feel we have a lot of answers to questions the family asked and we will be working through the recommendations to ensure they are implemented in full," he said.
He added: "We have investigated whether the CCG can support the family in an application for a second inquest and we understand that it's possible and that is what we are going to do."
In relation to the University Hospitals of North Midlands Trust, which now runs the former Stafford Hospital site, Mr Donald said he was "disappointed" to see the comments relating to poor culture. "What I am very clear about with UHNM is that they need to demonstrate to the outside world that the way they handle complaints is totally different from the way Jonnie's case was handled."
Mr Donald said the CCG was also talking to the Department of Health about making changes to the CDOP process.
UHNM has been approached for comment.