Pennine Acute Hospital Trust reported 786 cases last year where patients waited more than 12 hours to be admitted to a ward
Continuing high number of breaches have prompted NHS England to raise the issue with Devo Manc team
Serious concerns were raised about the trust's emergency services by the CQC after an inspection last February
NHS England has raised concerns with Greater Manchester's devolution team over the continuing high number of 12 hour "trolley waits" at Pennine Acute Hospitals Trust.
The provider accounted for almost a quarter of 12 hour breaches in England last year, according to official statistics released yesterday.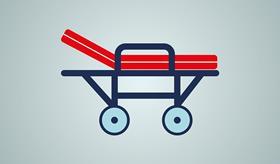 In 2016-17, Pennine reported 786 cases where patients waited more than 12 hours to be admitted to a ward, following a decision to admit. The majority were reported at North Manchester General Hospital.
The problems were recently raised by NHS England at an assurance meeting with Greater Manchester Health and Social Care Partnership.
The trust said the number of breaches reduced significantly in April and May, though these figures are yet to be published by NHS England.
The trust was rated inadequate by the Care Quality Commission after an inspection last February, with the regulator highlighting serious failures in the emergency services at North Manchester, including the number of 12 hour breaches.
Following the inspection, the trust's management was taken over by the chair and chief executive of Salford Royal Foundation Trust, as part of the development of a new "provider chain" across the organisations.
But the number of 12 hour breaches continued to increase throughout last year, with 610 cases coming between September 2016 and March 2017. The trust reported around 200 breaches in 2015-16.
The trust, and North Manchester in particular, has struggled for many years to fill its medical rotas, while a reduction in bed capacity in early 2016 added to blockages in A&E. The acute assessment unit is also deemed too small to deal with the number of attendances.
Some progress has been made in recent months to fill the rota gaps, with some temporary consultant cover provided by Salford Royal and Manchester Royal Infirmary. An extra £20m of revenue funding has also been secured for 2017-18, while some extra capital funding will help expand the acute assessment unit.
A spokesman for Pennine Acute said the number of breaches at North Manchester halved in April, compared to March, while none have been reported so far in May. He added: "The trust has made it a priority to eradicate 12 hour breaches for those patients waiting for admission… but we know we have more work to do.
"All patients that have extended waits for admission are cared for in a bed and we ensure our quality standards for nursing care are delivered reliably."
The trust previously told HSJ about problems with the accuracy of its 12 hour breaches data, due to differences in the way it recorded breaches compared to the national definition. However, the data issues were resolved in January, and a further 180 breaches were subsequently reported in February and March.
The trust's performance against the four hour waiting standard was 82 per cent in 2016-17, compared to 85 per cent in 2015-16.
Nationally, there were 3,496 trolley waits of more than 12 hours last year, which represented 0.06 per cent of total admissions. The total for Pennine represented 1 per cent of admissions. Weston Area Health Trust had the highest rate of 12 hour breaches, of 1.1 per cent.
Source
NHS England performance data