A financially troubled hospital trust has launched an "extremely challenging" plan to save nearly 10 per cent of its income in the next year.
Plymouth Hospitals Trust, which is part of the Devon success regime, plans to save £40m in 2017-18 through a variety of projects, including "workforce redesign".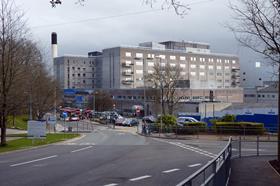 Its income in 2015-16 was £432.8m. Details of the savings plan have been published as the trust is set to end 2016-17 with a deficit of £35.6m.
The £40m target is nearly three times the £14m the trust saved in 2016-17.
The trust had expected this figure would decrease through an injection of £11.9m of sustainability and transformation funding, but this money has been withheld because the trust did not agree its 2016-17 control total with regulators.
In its financial plan for 2017-18, the trust said: "We recognise that achieving [£40m of savings] will be extremely challenging."
The largest portion of internal savings the trust can make is in "alternative workforce models", where £5.4m has been identified.
To achieve this the trust will carry out:
a skill mix review;
a review of portering services, which "may or may not" change the overall numbers of porters required; and
develop nursing associates and assistant practitioners to bridge healthcare assistant and registered nursing roles.
Other areas where the trust is hoping to achieve multimillion pound savings include procurement (£4m), reduction in support service costs (£2.4m), and achieving agency spending control totals (£2m).
But £13m of the savings plan rely on schemes which are "externally dependant".
The trust intends to save a further £20m in 2018-19.
If the provider is successful, its leaders hope the organisation will record a deficit of £3m in 2017-18 and a £2m surplus in 2018-19.
The trust said it will have made £14m of its £16m cost improvement programme savings in 2016-17, of which approximately £12m are recurrent savings.
Finance director Neil Kernsley said: "In the next year we are looking to achieve savings through options such as a skill mix review, vacancy control, energy savings, income generation in overseas patient income recovery, and providing occupational health services to other organisations."
Asked about the porter review, Nick Thomas, director of planning and site services, added: "The review is looking at how we ensure a porter is available when they are needed. Currently our porters are organised into a number of separate teams; we are looking specifically at how technology can allow us to better coordinate the entire resource for best effect."
In 2015-16 there were 108 full-time equivalent porters at the trust.
Source
Information provided to HSJ, trust board papers