NHS Improvement says agency cap is delivering substantial savings
Regulator says no evidence of systematic impact on safety or staff supply
Nine out of 10 NHS trusts are breaching the cap every week to maintain safety
The cap on agency rates for temporary staff in the NHS is expected to save up to £800m in its first year, NHS Improvement has said.
The regulator has also shared with HSJ incident data reported by trusts when they believe the cap has led to patient harm or service closure. The data shows two incidents of potential harm since the cap was introduced in November; 23 incidents with no harm; and 11 incidents of service closure (see box below).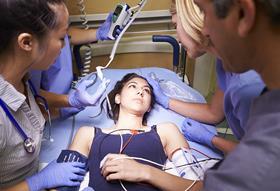 An average of 214 trusts, or 90 per cent, breached the cap on the grounds of patient safety each week during quarter one of 2016-17.
NHSI does not collect data on the total number of shifts in the NHS each week, meaning it is impossible to tell how many agency cap breaches there are as a proportion of the total number of shifts worked.
However the overall number of price cap breaches fell by 8 per cent during the first quarter of 2016-17, from 54,419 at the beginning of April to 49,837 at the end of June. The vast majority of those are nursing or medical staff shifts, although the numbers also include other groups such as administrative staff.
During quarter one trusts breached the cap 290,523 times in order to recruit an agency nurse, though the numbers of breaches each week fell by 25 per cent from 26,170 at the beginning of April to 19,557 by the end of the quarter.
But for medical staff the numbers of breaches rose by 25 per cent from April to 17,440 in the final week of June. During the quarter there were 204,672 overrides of the cap.
Chris Mullin, director of economics at NHS Improvement, said the incident data was analysed on a weekly basis. "We look at these incidents in aggregate to see if this amounts to a substantial picture of the cap having safety consequences for the sector and in our view we don't see evidence of that," he said.
He added: "The messages we keep getting back from trusts is that the price caps are challenging but are very helpful overall. We have seen no systematic evidence to show that the agency caps have had any net overall effect on supply.
"The vast majority of trusts have been exercising the 'break glass' clause. We do want to see that number coming down but what it does point to is that trusts are not afraid to use that when they see a patient safety issue."
Mr Mullin said the cap had delivered £300m of savings in its first six months, £500m by August, and was expected to save £700m-£800m in its first year.
He said this contrasted with the agency market's growth of 30 per cent a year before the cap was introduced, and that trusts were now spending £250m a month on agency staff – down by 15-20 per cent on a year ago.
Incidents reported to NHS Improvement since introduction of agency cap
Potential harm
One trust in July was unable to cover 11 accident and emergency registrar shifts over a weekend. A patient subsequently collapsed after an eight hour wait and was treated in intensive care.
In December, a patient fell in a bay after a trust was unable to source a member of staff.
Service closures
Lancashire Teaching Hospitals FT downgraded Chorley A&E between 8am and 8pm due to a shortage of locums.
One trust cancelled 204 elective procedures during quarter one due to a failure to recruit operating department practitioners.
Other trusts reported difficulties recruiting substantive and locum middle grade doctors.
Asked if some trusts could be unwilling to report incidents, Mr Mullin said: "The numbers that we are seeing in terms of the use of the 'break glass' clause suggest that is not prevalent across trusts and they are using the clause when they need to.
"We have been quite clear in our messaging and putting that prominently in the policy that responsibility remains with the trust to protect patient safety and there is a facility to do that. I think that message has got through."
He said an area for improvement was the cost of medical locums. "It has been harder for trusts to meet the cap in respect of doctors than for nurses partly due to the market for doctors but there is also more that medical directors can do to manage their workforce smartly and reduce their reliance on locums," he said.
"Before the controls came in the prices paid for medical locums versus agency nurses were much higher relative to substantive wages for doctors, particularly junior doctors, than for other staff.
"This means it is a harder step for the prices to come down to the capped rates and indeed we have seen the override rates being higher for medical staff than for nurses. The bigger share of the savings relative to spend has come from nursing rather than medical groups but we have seen price reductions in both. There are still further improvements to be made in respect to medical prices."