NHS England has not published or taken forward key recommendations from 2015 report
Concerns that hospital chief executive misused her influence as NHSE's national cancer director
Successive reports raised concerns over fragmented care model in south London
NHSE and hospital say changes are being made
NHS England covered up serious problems with paediatric cancer care in London – which had seen children dying in "terrible agony" – and has "buried" attempts to overhaul the services, an HSJ investigation has established.
The former NHS medical director for London accused NHSE, his former employer, of "burying" an expert report, commissioned in the wake of child deaths, which showed fragmented services across London were providing poor quality care.
It highlighted particular shortcomings in children's cancer services for south London and south east England, which centre on the Royal Marsden Foundation Trust's Sutton hospital.
Concerns have also been raised that Royal Marsden FT's chief executive Cally Palmer may have misused her influence as NHSE's national cancer director to shape the considerations to protect the Marsden, a high-profile cancer centre.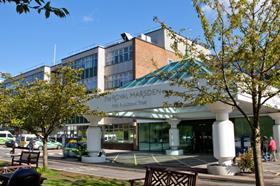 The review, led by Mike Stevens, emeritus professor of paediatric oncology at Bristol University, was completed in 2015, but is published for the first time today by HSJ.
Internal emails between NHS England staff discussing the report in 2016 show one official cautioned that the "supposed 'cover up' may become the story in itself" and in a separate email referenced the Bristol child heart scandal, warning: "There is the potential for this to blow up in our faces."
Senior figures including clinicians in the NHS, Department of Health and Social Care and Care Quality Commission, as well as bereaved families, have told HSJ of their concerns over the inaction by NHS England, and what many of them described as a cover-up.
The Marsden's Sutton site sits at the centre of what is known as a "shared care" network for south London and Surrey, Sussex and Kent. Under the model the Marsden provides specialist cancer treatment. But many children have to be transferred elsewhere – mainly St George's hospital – for intensive care; and have to be treated at King's College Hospital for neurology services. Some cancer care is also provided before and after treatment at the Marsden at 16 district general hospitals.
A series of concerns have been raised about the way the model works in south London – where it is more fragmented than other parts of the UK – for around a decade, but key aspects have remained unchanged.
Andy Mitchell, a paediatrician who was NHS London medical director for four years until 2013, then NHS England's London medical director until 2016, set out to review and reconfigure the services. He has spoken for the first time in public about the issue to HSJ.
He said the 2015 report by a panel of experts from outside London had been "buried" and that he believed Ms Palmer and NHS England chief executive Simon Stevens were responsible, stating: "I can't imagine any other individuals having the power and influence to be able to stop this report moving forward." Professor Stevens, the report author, also said he was concerned about Ms Palmer's influence on the issue.
One NHS hospital trust chief executive told HSJ: "I worry no one is speaking up because they are worried there are too many powerful people involved."
The revelations come as NHS England has this month published draft service specifications for children's cancer care. HSJ has seen earlier drafts of these which recommended intensive care services must be co-located with the specialist cancer care - something the Marsden's Sutton centre cannot deliver. However, in the published proposals these have been "softened, with no clinical justification", according to a clinical professional association, the Children's Cancer and Leukaemia Group. CCLG claimed this was due to feedback from NHSE's national cancer team, as opposed to its specialised commissioning teams.
An NHSE spokeswoman said: "The independent cancer taskforce [in 2015] recommended that the NHS should improve 'pathways between specialist centres and shared care units' for children with cancer.
"The draft service specifications have been developed with expert clinical input and were signed off by the children and young adult cancer services clinical reference group, and we are now consulting on the proposals, to build on progress which in recent years has seen NHS services contribute to a record high cancer survival rate."
A spokeswoman for the Royal Marsden highlighted that its children's services were rated by the CQC in 2016 as "outstanding" for caring and "good" for being safe, effective, responsive and well-led. She added: "The CQC commented that there was an open and transparent approach to incident reporting. Patient safety incidents are among the lowest in the country… and the centre has robust data to demonstrate that clinical outcomes are equal to or better than the national average.
"All paediatric cancer centres across the country work with a number of shared care units to manage patient care. Very sadly, two serious incidents occurred in 2009 and 2011 both as a result of the management of shared care pathways between units and the centre. Both were fully investigated at the time and action taken to learn from and improve the management of these pathways." She said the Marsden had taken full part in reviews.
HSJ's investigation found:
More than 330 children were transferred from the Marsden to other hospitals between 2000 and 2015 as part of the model.
In one year, 22 children were transferred for intensive care a total of 31 times with some experiencing at least three transfers individually.
The report by Mike Stevens in 2015 followed the death of two-year-old Alice Mason in 2011, whose father told HSJ she died in "terrible agony". He accused NHS England of trying to "push the issues under a carpet".
A coroner in 2013 said the failings in her care were "astonishing" and criticised the running of the model.
The parents of eight-year-old Daniel Strong told HSJ their son suffered in agony in 2009 due to the "disorganisation" of services.
In 2011 a national clinical advisory team raised concerns over governance, safety and the experience of patients and families and said it was "unrealistic" the model could continue.
The Royal Marsden refused to engage in subsequent work by NHS London and Sir Alan Craft in 2013 to draw up new service standards.
Exclusive: NHS England 'buried' concerns over child cancer services
1

Currently reading

Exclusive: NHS England 'buried' concerns over child cancer services

2

3