Research examines board leadership since the 2013 Francis report
Patient safety is most important challenge facing boards, say 381 leaders
Financial pressures and regulatory demands are barriers to improvement
Financial pressures on the NHS and the burden of dealing with demands from regulators risks undermining progress made on patient safety and leadership since the Francis inquiry, researchers have warned.
The study, published today by Alliance Manchester Business School, Birmingham University and the Nuffield Trust, examined how hospital boards and senior managers had responded to the 2013 Francis report.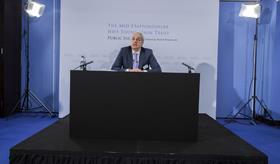 It was based on a survey of 381 board level directors from 90 per cent of NHS hospitals.
The research, funded by the National Institute for Health Research, found board directors, who were responding anonymously, rated patient safety as a more important challenge than long term financial sustainability.
Asked what the significant barriers to improving board leadership were, 73 per cent said financial pressures, while 68 per cent said meeting demands from regulators was a barrier. Also, 41 per cent highlighted poor relationships within their local health economy.
When respondents ranked the most important challenges, patient safety scored higher than finances, which in turn scored higher than patient experience. These were followed by accident and emergency performance, workforce shortages, service reorganisation, clinical effectiveness of care and staff engagement.
On regulatory demands, the report said: "There was also concern about the many and various demands of the Department of Health, NHS England and regulators. There was perceived to be a lack of joined up thinking with such demands sometimes being a distraction, or getting in the way of local system partnership working, rather than being supportive. Furthermore, the difficult financial situation made change even harder to achieve because of the additional costs of change."
Lead author Professor Naomi Chambers, from Manchester University, said the findings showed there was a very real risk of another care scandal in the NHS.
She said: "The Francis report had an impact on culture and behaviour of boards up and down the land. There have been some improvements but there has been an uneven response, which means there are some hospitals that are less well led than others and the current set of pressures, such as workforce shortages, the demands of regulators and finances, put the improvements following Francis at risk.
"It is a collective view of all us who did the research that the NHS is at risk of another Stafford Hospital type failure of care unless attention is paid to issues of finance and the regulatory approach that is taken."
The study found that there was tension at trusts between long term financial sustainability and safety, saying: "Current access and finance targets environment can make it difficult to hold the line on maintaining quality and safety."
The report said there was clear evidence that the Francis report had "galvanised changes in the behaviours of NHS boards" but "the policy context since Francis has become more challenging, and this is affecting the ability of some boards to drive safe, compassionate and effective patient care. Overlapping, voluminous and sometimes contradictory policy and guidance from central NHS bodies can also be an obstacle for some executives."
Other findings from the research included:
The duty of candour was well embedded and had "led to greater openness and patient confidence".
Variable quality in middle management at ward and department level was a barrier to implementing policies associated with the Francis report.
Board members are more visible to staff and patients.
A culture of quality and service improvement in acute hospitals is "emergent and variable".
Fit and proper person test regulations were regarded as a "tick box exercise" but supported as a policy.
The chief nurse role has become more high profile.
A chief executive told the study: "If anything, Francis is losing traction now. Messages from regulators appear to underline that finance and performance are more important than quality."