Jeremy Hunt has said his role as health secretary is "likely to be my last big job in politics".
The health secretary's comments come as there is substantial speculation that he will be removed from the role after June's EU referendum.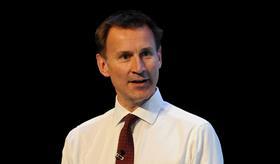 He was pressed on BBC Radio 4's Today programme on Tuesday morning about whether he had considered stepping down because he was preventing the junior doctors dispute being resolved.
Mr Hunt responded: "This is likely to be my last big job in politics. And the one thing that will keep me awake is if I didn't do the right thing to help make the NHS the safest, highest quality heathcare system in the world.
"And health secretaries are never popular… But what history judges is: did you take the tough decisions that enable the NHS to deliver high quality care?"
HSJ editor Alastair McLellan said on Twitter that the interview was "very, very important", and indicated that Mr Hunt was happy to be reshuffled.
Mr McLellan said: "By signalling he doesn't want new cabinet post, he becomes much easier to reshuffle."
However, a government source said this was not the intention behind Mr Hunt's comments and he wanted to remain as health secretary for a long time.
Mr Hunt told HSJ in 2014 that he had asked David Cameron to keep him as health secretary until 2017, claiming he "would be very happy if this is my life's work".
HSJ Live 27.04.16: Junior doctors stage second full walkout
1

2

3

4

Currently reading

Jeremy Hunt: This is my last big job in politics