Dame Julie Moore says NHS Improvement and CQC should combine
She says Heart of England FT will need £200m in capital to fix estates
Dame Julie calls for a government debate on how NHS is funded
One of England's leading trust chief executives has said there should be "one regulator" that brings together NHS Improvement and the Care Quality Commission.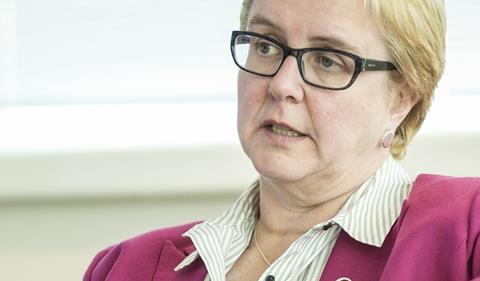 Dame Julie said society needs to decide 'how much money and how we're going to fund the NHS'
Dame Julie Moore told HSJ that trusts are "over regulated". She said: "I think there should be one regulator responsible for doing it all [regulating quality and finance] and I think it needs to be proportionate and I think it needs to be much more intelligence led, and not so absolute in what it does."
Dame Julie, who runs University Hospitals of Birmingham and Heart of England foundation trusts, also revealed that HEFT needs to find £200m in capital as part of a 13 year estates improvement plan.
Last October, Dame Julie was appointed to lead the troubled HEFT alongside her role as chief executive of UHB, and in September this year the two trusts announced their intention to merge.
Talking about plans for improvement at Heart of England, Dame Julie said the trust needs "radical upgrades" to its buildings and equipment, and the first phase of development would need £200m in capital funding. This phase would include upgrading ambulatory care and diagnostic centres.
Dame Julie said the Department of Health and the Treasury had been "helpful" regarding the trust's capital needs but a PFI type loan would also be needed.
Last month, she told the House of Lords long term sustainability of the NHS committee there should be a government debate on how much public money is spent on the NHS.
Expanding on this point, Dame Julie said: "Personally, I think you should give higher taxation… The issue is if we've increased our life expectancy by about 10 years, then the debate has to be with the public when we set the level of taxation at this [level of life expectancy].
"It's a view for all of society to decide, via its elective representatives, how much money and how we're going to fund [the NHS], but you can't keep telling people to provide the same level, the same quality, the same quantity for less and less money, it's not going to work."