Minister says primary legislation will be needed to deliver "safe space" reforms
Philip Dunne says NHS culture needs to be "turned around" to extend reforms locally
New chief investigator had told MPs safe space should be for HSIB only
Health minister Philip Dunne has told MPs primary legislation will be needed to reform the way the NHS investigates and learns from mistakes.
Mr Dunne told the Commons public administration and constitutional affairs committee today that legislation in Parliament would be necessary for the new "safe space" and the Healthcare Safety Investigation Branch to both be implemented in the "optimum way".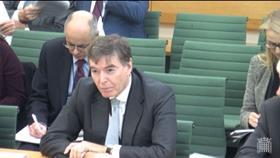 HSIB is being set up to carry out incident investigations in the NHS to improve learning from systemic errors and to encourage higher quality local investigations by trusts. A significant element of its work will be the creation of a legal safe space for staff to talk openly about why a mistake happened without fear of it being used against them later.
The space would grant them immunity and protection as long as they are not guilty of criminal acts or serious professional misconduct.
HSIB is due to begin its work in April led by chief investigator Keith Conradi, who previously headed up the Air Accident Investigation Branch, which HSIB has been modelled on.
Asked about the need for legislation, Mr Dunne said: "It is something we will be making determinations on. We will not have primary legislation at the time HSIB goes live but we will be responding to the consultation [on the safe space proposals] in the new year.
"There is a strong argument for there to be primary legislation. We are well aware that in order to deliver safe space in the optimum way it will be required."
However, he added: "It is not for me to determine what goes in the Queen's speech."
William Vineall, director of quality at the Department of Health, told the same committee the idea of extending the safe space to trusts would mean "more safe space investigations and more learning and improvements", which would create a "virtuous circle".
Former health minister Dan Poulter questioned whether the NHS culture was ready for safe space at a local level.
Mr Dunne said: "I think that is one of the challenges about spreading safe space throughout the NHS. I think this is one of the cultural issues that we need to address.
"It clearly is not right that members of staff feel bullied or harassed as part of their employment in the event of getting involved in a complaint or investigation. Ideally we would have a culture in which people feel free to speak openly and that's one we should encourage and that is going to take considerable efforts to turn that culture around."
Critics of the plan to extend safe space to NHS trusts include Mr Conradi. He previously said: "The principle of safe space should be limited initially to the HSIB investigations. I would be very concerned if people used that principle without really understanding it and being fully trained in it.
"There is a danger that information could be used inappropriately, and that would then undermine it for everybody, particularly ourselves. We will go to great lengths to ensure that we use it very sensitively and appropriately to our investigations."
Members of the advisory group behind the initial proposals for HSIB said last month the government's plans to extend safe space were "doomed to cause problems".
The consultation on the proposals closes on 16 December.