New investigation body will focus on maternity incidents from April next year
Government to invest £4m in new technology, education and training
Transparency data to include comparable trust performance on maternity outcomes
The new Independent Patient Safety Investigations Service has been asked by the health secretary to focus on maternity incidents in its first year as part of plans to halve the number of stillbirths, neonatal and maternal deaths by 2030.
Jeremy Hunt has announced plans to tackle England's high rate of deaths and stillborn babies with a £4m investment in new technology, education and training.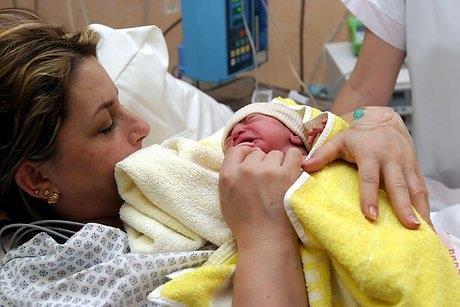 The number of stillbirths, neonatal deaths, maternal deaths and brain injuries that occur during or soon after birth will be expected to fall by 20 per cent by 2020 and 50 per cent by 2030.
This ambition is part of a wider government aim to reduce avoidable harm by 50 per cent and save 6,000 lives by 2017.
Maternity services will be asked to draw up plans to improve safety, including appointing maternity safety champions to report to the board and ensuring all staff have the right training to identify risks and symptoms of perinatal mental health issues.
There will also be a new focus on data. New information will be published on the MyNHS website from next month showing outcomes for maternity services, along with an annual report showing stillbirth and neonatal death data by trust with an indication of how they compare against services providing similar levels of care.
Trusts will get a share of the £4m to buy new technology and roll out staff training. This will include £2.24m to support trusts to buy monitoring and training equipment to improve safety.
Another £500,000 will be invested in a new system to allow staff to review and learn from every stillbirth and neonatal death.
The Department of Health confirmed IPSIS will be asked to consider maternity incidents once it is established next year.
There will also be a £1m investment in training packages developed with the Royal College of Midwives and the Royal College of Obstetricians and Gynaecologists, to ensure staff have the skills needed to prevent incidents.
Bill Kirkup, chair of the Morecambe Bay inquiry, told HSJ: "This is a very welcome initiative to improve safety and reduce an important and tragic cause of avoidable harm.
"Improving and maintaining the skills of doctors and midwives to spot developing problems and react to them will be a key element."
James Titcombe, whose son Joshua died at the University Hospitals of Morecambe Bay Foundation Trust told HSJ: "I think the general announcement is really positive. Now it's about people working together to make positive changes happen."
The government said England's outcomes in terms of stillbirths lag behind many countries in the developed world. A 2011 Lancet dataset on stillbirths ranked the UK 33 out of 35 high income countries for stillbirth rates.
In the UK, four in every 1,000 babies is stillborn each year.
Mr Hunt said: "The NHS is already a safe place to give birth, but the death or injury of even one new baby or mum is a devastating tragedy which we must do all we can to prevent.
"With more support and greater transparency in maternity services across England we will ensure every mother and baby receives the best and safest care, 24 hours a day, seven days a week."
David Richmond, president of the RCOG, added: "Good progress has been made but the fact is many of these incidents could be avoided with improvements to the care women and their babies receive."
Royal College of Midwives chief executive Cathy Warwick said: "It is critical that all of us involved in maternity care work to reduce tragic outcomes. Much excellent work is already going on in this respect."