Government plans to scrap bursaries in England, public health cuts, caps on pay for agency staff and the removal of the Department of Health's nursing policy unit all came under fire from the chief executive of the Royal College of Nursing at the union's annual congress.
In a wide ranging speech, Janet Davies said health visitor jobs in particular were under threat, as their work was "drastically cut" following budget reductions.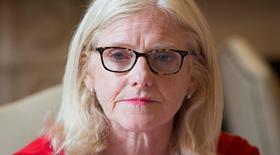 She accused the government of "playing around with lives" for introducing the cuts – including a £200m in-year reduction to public health grants for councils in 2015-16 – just after it had trained around 4,000 more health visitors.
The coalition government unit boosted the workforce from 8,092 in 2010 to 12,077 in 2015, following a Conservative pledge.
Ms Davies repeatedly emphasised "you couldn't make it up" in reference to recent government decisions on nursing and the NHS workforce, and asked the audience how they would run the health service instead.
"What about health visitors? You realise how important they are, you announce that you want to recruit thousands more. Do you then stand by a couple of years later and watch while work for health visitors is drastically cut?," she said.
"It's playing around with people's lives – these are nurses who've left their jobs to train under the prime minister's initiative, and now may not have a job to go to," she added.
Ms Davies also questioned why the DH planned to scrap its nursing, midwifery and allied health professions policy unit when the workforce needed "strong professional leadership".
Meanwhile, she said government plans to scrap bursaries for students in England and the move to a loans system instead "puts the whole future of our profession across the UK at risk".
"They may not have overturned the decision – yet – but hopefully we're making them pause," she said.
She questioned decisions to cut funding for nurses' continuing professional development training, as well as the government's policy to place caps on NHS spending with agency staff in England.
"We know organisations have to bring in agency nurses to fill the shifts. So what do you do? Do you cap the funding to pay for them? You couldn't make it up," she said.
"What about encouraging your loyal staff to work the evening and weekend shifts so you don't need to call on so many agency staff?
"Do you think about increasing the incentives for unsocial working so that staff offer to do those shifts? Or do you let them worry that their incentives are going to be cut?," she added.