Simon Stevens says there is "no new reform plan for the NHS" and the government wants it to "get on with" reshaping services
NHS England chief executive says "minimum efficient scale of some acute services" has increased
Applications to split into subdivisions could result in "modest adjustment" in STP numbers
The government wants the NHS to "get on with the task" of overhauling services in line with the Five Year Forward View and there is "no new reform plan" for the health service, Simon Stevens has said.
The NHS England chief executive was asked about the approach of the government – now under a new prime minister – to service changes, which may prove controversial.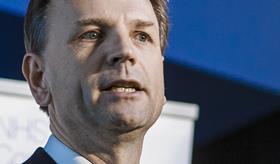 Mr Stevens, speaking at the HSJ Commissioning Summit last week, said: "People want us to get on with the task we've set ourselves. There's no new reform plan for the NHS."
Discussing the potential reconfiguration of acute services, which are being considered in many areas as part of sustainability and transformation planning, Mr Stevens said he was "not one of those people who thinks that the right answer for this country is that we have 10 mega hospitals and everybody has to travel 100 miles to get there".
However, he said that "changes in clinical staffing patterns in hospital" such as reductions in junior doctors' working times, together with new seven day standards and transparency of outcomes, meant "the minimum efficient scale of some acute services has probably increased" over the last decade, indicating this meant some consolidation would be right.
Asked about the future of STP footprints, Mr Stevens said there might be "some modest adjustments" to the current configuration of 44. He said "some places will decide they're either a bit big for the task now in hand or the geography isn't quite right".
Last week's planning guidance said some STPs areas would be able to apply to split into "subdivisions" with separate financial control totals.
Mr Stevens also acknowledged some STPs were likely to change their leader. In some cases "the person who was suggested as the STP chair or leader is clearly evolving into taking [a] broader leadership role", he said, whereas elsewhere they may want to "hand the baton on".
He added: "We want to back the leadership momentum where we find it, recognising that for the foreseeable future – by which I mean probably the rest of this parliament – this supplements rather than replaces the pre-existing statutory accountabilities."
The HSJ Commissioning Summit was held under the Chatham House rule last week. NHS England agreed following the event for comments to be attributed to Mr Stevens.
Exclusive: NHS free to 'abandon payment by results'
1

2

Currently reading

Simon Stevens: There's no new reform plan for the NHS