It is time to safeguard against familiarity and self review, whilst adopting a seven-stepped approach to evaluating assurance regarding the delivery of trust improvement plans across the NHS, says Gillian Hooper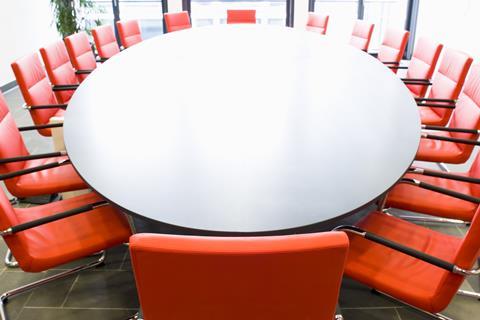 Evaluating the effectiveness of corporate governance arrangements and specifically the delivery of local improvement plans causes one to reflect upon both the need for greater granularity in evaluating delivery of plans and for trust boards to use more detailed and differing levels of assurance to evidence progress.
Developing a common understanding of what information has the potential of providing assurance and the application of a standardised approach to consistently evaluating levels of assurance at any given time are also key to reducing variation; with the potential for organisations with red RAG rated performance dashboards unchanged over time and ever lengthening action plans – fast becoming a memory of the past.
Similarly, trust boards finding themselves facing unexpected potential regulatory enforcement action for a serious breach in standards would also become a highly unlikely occurrence rather than the all too frequent experience currently.
The aspects of "familiarity" and "self review" which have become central to our approach to evaluating progress has resulted in a critical loss of internal authentic challenge, with individuals routinely being given responsibility for the development of an action plan, in addition to reporting on progress and providing assurance to subcommittees on behalf of the board.
It is no surprise that potential aspects of advocacy and self-interest can effect rigour and objectivity, with the unintended risk of the generation of false assurance and the inevitable use of costly external expertise to provide a more accurate evaluation of progress.
Developing a common understanding of what information has the potential of providing assurance and the application of a standardised approach to consistently evaluating levels of assurance at any given time are also key to reducing variation
With the basic definitions of assurance often in use, "fully", "partially" or "not assured", such standalone definitions create the opportunity for individual interpretation both around the trust board table and across an organisation.
Applying these simple definitions effectively, being reliant upon the maturity of the improvement plan to offer any helpful feedback to the trust; as an improvement plan that focuses almost exclusively on the identification and delivery of actions in direct response to specific concerns raised in the absence of an understanding of the systemic underlying causes of the concerns can only be evaluated on the delivery of specific isolated actions, which can provide no assurance at all regarding the sustainability of any improvements sought.
By contrast, a range of interdependent actions aimed towards achieving clearly defined outcomes to address the identified underlying causes of the variation in services delivered, may be evaluated to potentially generate the strongest of assurance possible regarding the sustainable improvement of services.
Defining and applying detailed levels of assurance to recognise this distinction and evaluate progress is a key to changing this dynamic and generating a consistent understanding locally of both the degree of analysis and understanding of the problem that underpins the action plan in place. This in turn enables a robust assessment of improvement to be reached and effective adjustment of focus and priorities to be made.
Measures to strengthen assurance
Three key adjustments have the potential for significantly strengthening the consistency of assessments undertaken to empower trust boards, add sustainable focus, pace and momentum to improvements and drive and measure the impact of improvement plans. These being:
To ensure desired outcomes are clearly described in all SMART improvement plans such that they include actions to BOTH address specific concerns AND the underlying systemic reasons for this variation.
To mitigate risks of familiarity and self – review by ensuring responsibility for formally evaluating the delivery of an improvement plan and presenting assurance on delivery is NOT given to an individual also responsible for the development and delivery of the improvement/action plan.
To ensure evaluations of delivery include both actions and outcomes of operational and systemic issues, using the seven levels of assurance detailed.
The seven levels of assurance offer trust boards a clear progression from:
levels 0 – 2 rated RED, reflecting actions directed towards specific concerns, with evidence only available regarding delivery of specific actions;
levels 3 – 5 rated AMBER, reflecting actions in the process of being delivered to address both specific and underlying causes for variance;
a single GREEN rated level 6, representing actions to address both specific and underlying causes for variance being in an advanced stage of delivery, with emerging evidence of the achievement of desired outcomes; and
a final level 7 rated BLUE representing achievement of a sustained improvement, with evidence of delivery of the majority or all of the agreed actions and clear evidence of the achievement of desired outcomes over a defined period of time ie three months.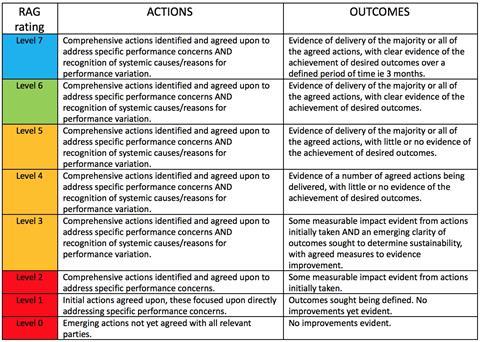 The real potential of the three-stepped approach outlined above is that exploring and adopting any of the steps will potentially strengthen governance arrangements for ALL trusts, whatever the current level of confidence is in local corporate governance arrangements.
The potential system-wide benefits of strengthening governance arrangements being to offer a consistent approach for regulatory evaluation, a reduced dependency on external auditors to generate assurance and increased efficiency, effectiveness and impact at every level in trusts, all of which translate into massive potential improvements for patients.
Gillian Hooper is national professional advisor - leadership reviews, Care Quality Commission.