CQC head of acute policy says regulator "does not see" new efficiency ratings being linked to special measures
Alex Baylis says CQC will have to work closely with NHS Improvement to make inspections of use of resources effective
Repeats warning of CQC being "too purist" in its view of quality
Trusts found to be performing poorly by the Care Quality Commission in their use of resources are unlikely to be put in special measures as a result, a senior CQC figure has indicated.
Alex Baylis, the CQC's head of acute sector policy, said it lacked authority to take regulatory action against providers for being inefficient, and would therefore have to work closely with NHS Improvement to make the new inspections work.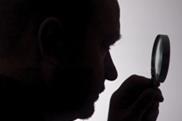 The health secretary asked the CQC to start rating NHS hospitals on how well they are using their resources from April 2016.
The policy is part of the government's attempt to bridge a £22bn NHS efficiency gap that is forecast by the end of the decade.
The regulator will use a combination of data and inspection to rate providers on its standard four point scale: outstanding, good, requires improvement or inadequate.
While the CQC will consult on its detailed plans for the rating in January, last month Mr Baylis spoke at the HSJ/McKinsey War on Variation summit on the regulator's current thinking about how the new system could work.
He said that it was unlikely a poor rating would result in trusts being placed in the special measures regime.
"We've been thinking that the use of resources rating, at the moment we don't see it joining up with something like special measures," he said.
"There may well be support around trusts that aren't performing well, but not in same way as special measures is our current thinking."
Mr Baylis said the rating would not be attached to the CQC's regulatory powers because the watchdog had "no enforcement powers to prosecute people for being inefficient".
For this reason it would be "absolutely critical" for the CQC to work closely with NHS Improvement, which will have such powers.
Several health policy experts have warned that the CQC's new duty to rate efficiency could "taint" its focus on quality.
However, Mr Baylis said there was a risk that if the regulator was "too purist" in its view of quality it could become divorced from the day to day realities of running providers.
He said: "We're particularly trying to look at how to bring together the quality and finance agendas, so that you don't have separate discussions – chief nurse saying 'I need more staff for safety', finance director saying 'we've run out of money for extra staff' – you can have one discussion across the piece."