Watch our webinar featuring the chief inspector of hospitals free online.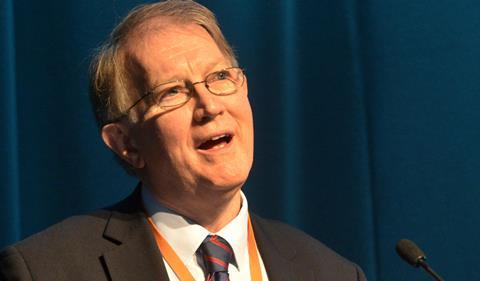 Mike Richards Confed 2015
In association with Ridouts
It is now six months since Monitor and the Trust Development Authority came together to form NHS Improvement. The change was a major one, not only bringing the regulation of all trusts under one body but also signifying a move away from merely identifying a problem and towards offering support in finding a solution.
On 3 November, chief inspector of hospitals Sir Mike Richards joined a panel of experts to discuss the new regulator.
The webinar is now available on demand. If you have previously registered for it, simply enter the email you used at the time. If you're new to the event, you just need to complete a few short details.
This HSJ webinar, run in association with Ridouts, considered the first six months of NHS Improvement and how the body was working with the CQC to regulate providers.
Specific questions for discussion included:
• What have been the most notable successes of NHS Improvement thus far? What have been the challenges?
• How can a shift from regulation to improvement be truly promoted?
• How is NHSI working with the CQC? How should this relationship evolve in the future, to ensure each has a distinct but complementary role?
Speakers were:
Professor Sir Mike Richards, chief inspector of hospitals, CQC
Dr Kathy McLean, executive medical director, NHS Improvement
Neil Grant, partner, Ridouts Professional Services PLC