Michael Dixon gives final speech as he steps down as NHS Alliance chair after 18 years
Says clinical commissioners constrained by accountability, payment and competition rules
Clinical commissioners are "in a straightjacket" and primary care remains "locked out of the NHS", Michael Dixon has said in his final speech as NHS Alliance chair.
Dr Dixon was speaking at an event to mark his stepping down after 18 years leading the primary care organisation.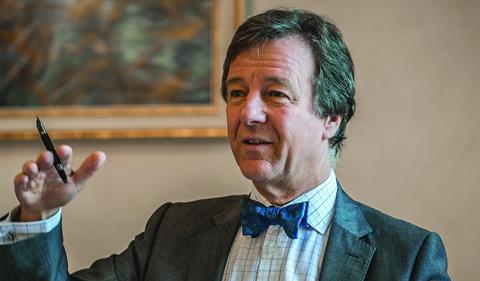 He said: "There are three issues of implementation that really now need sorting: clinical commissioning is in a straightjacket; frontline clinicians are not sufficiently engaged; and primary care is still locked out of the NHS."
Dr Dixon said clinical commissioning groups represented "our very best chance" to achieve a say for clinicians in how services were provided, but they were being constrained by "overcomplicated accountability processes"; a "very flawed payment system"; and "market bureaucracy".
"They are now far too bogged down in contracting, and long expensive tendering processes, which are not why our clinicians signed up in the first place," he said at the event in London yesterday.
"They must now be emancipated to fulfil their crucial role, freed from the chains of historical power structures, vested interested and political ideology."
He said primary care clinicians were "not being treated like professionals" and were "constantly told what to do".
"New models of care and new contracts [for primary care] have enormous potential but it is absolutely imperative we have a plan to resuscitate the beleaguered mainstream general practice at the same time – and I can't see one yet," he added.
He also said: "The default [solution] must not be GPs employed by hospitals because that is the antithesis of a primary care led NHS."
He said while primary care was prominent in the Five Year Forward View, and backed by the health secretary, it was "certainly locked out financially", stating that its share of overall NHS funding had reduced by 25 per cent over the past seven years. "It has carried a disproportionate share of austerity at a time when it's been expected to expand its role," he said.
Dr Dixon has been at the heart of primary care leadership in England through his time at the NHS Alliance, which he co-founded.
He predicted that of the additional funding for the NHS in 2016-17 announced in last month's spending review, "half of that will go into hospitals that have recorded deficits – deficits I should add that general practices are not allowed to have".
Dr Dixon added: "Hospitals remain the senior service and their chief execs [remain] the powerhouse of the NHS." He called on the "great brains" now leading the NHS to "reverse the inadvertent decline of primary care".
The alliance now has two co-chairs, Mark Spencer, a GP and federation lead in Lancashire, and Heather Henry, a nursing leader based in Manchester. Rick Stern has stepped down as chief executive and has been replaced by Merron Simpson, whose background is in housing.