Vanguard in south Somerset takes major step towards setting up a PACS
Three GP practices to be taken over by FT subsidiary company
Arrangements can be reversed if vanguard fails
Other practices offered partnership arrangement in local accountable care organisation
Three GP practices in Somerset are to be taken over by a company wholly owned by the local hospital foundation trust, in a major step towards establishing an integrated primary and acute provider organisation.
The practices will be the first to become part of Symphony Healthcare Services – a new subsidiary company of Yeovil District Hospital FT.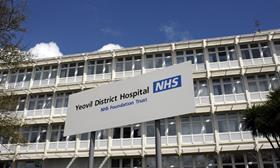 The south Somerset system is one of nine vanguards in the country working to establish primary and acute care systems, integrating GP and hospital services. It is understood to be one of the more advanced PACS sites in the new care models programme.
The three practices will be taken over next week. They are: a small practice owned by two GPs who are about to retire; a practice owned by a group of local GPs who are partners in other local practices; and a practice owned by a private company.
They have a combined registered list of 12,500. The total population covered by the south Somerset vanguard is 120,000.
Under the new arrangement the practices will continue to technically exist, and will continue to have individual contracts. However, these will in future be held by "nominee" GPs from the Symphony Health Services board. The practices' work will also be subcontracted to the company.
Local leaders hope nine practices could eventually be absorbed by the company this way, and existing partners will be allowed to retain ownership by taking on the "nominee" role.
Dr Berge Balian, chair of the Symphony programme, said: "Some [practices] are having recruitment difficulties, or are feeling that they are struggling to provide the services or need to be in a bigger organisation.
"Some have made the strategic decision that the future of general practice is not the partnership model."
Dr Balian said while he believed the partnership model had many advantages, general practice had become "unstable" in recent years. "I think we've gone beyond the reversibility point. My head says the future of general practice won't be in three of four partner practices," he added.
There are 19 GP practices in the south Somerset vanguard patch.
Two routes have been designed for local GPs to be involved with the integration project. The first is to be taken over by Symphony Healthcare Services.
The second is to become a co-owner of another new entity, South Somerset Primary Healthcare. This company will partner with Symphony Healthcare Services to set up a third new body, which will become the local accountable care organisation by being given a single outcomes based budget to provide care for the local population.
The takeover arrangements can also be reversed if the vanguard fails. The practice contracts will be handed back to the original partners if they have remained with Symphony if the company is sold, liquidated or if the local contract to provide integrated services for the whole population goes to another supplier