Patient safety charity found CQC only offers improvement recommendations to 41 per cent of trusts criticised under duty of candour
Seven per cent of CQC reports made no mention of duty of candour
CQC looking to improve oversight of duty of candour concerns
The Care Quality Commission has "no idea" how many reports of breaches of the duty of candour it receives nor if hospitals responded to concerns, a patient safety charity report has found.
Through a freedom of information request, Action Against Medical Accidents learnt that the CQC does not gather central statistics about individual reports into breaches of duty of candour or on any remedial action taken by an NHS provider.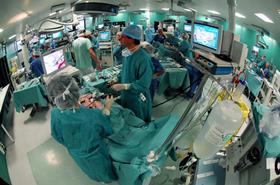 AvMA's report said throughout 2015 "even where [the CQC's] inspections had raised concerns about an NHS body's compliance it had no idea what the NHS body concerned was doing about it".
A CQC spokesman told HSJ it is looking to rectify this oversight and conversations are underway on how best to centrally record duty of candour concerns.
The duty of candour was introduced following the Mid Staffordshire public inquiry and is one of 12 fundamental standards health providers are expected to adhere to. It was enshrined in law in November 2014 and mandates that NHS providers are open and honest with patients and their families when there has been a medical accident.
The charity's report also criticised the way the CQC investigated and reported on the standard in its inspections. AvMA chief executive Peter Walsh said he was "deeply disappointed" by the regulation of the duty to date.
AvMA's analysis of 90 CQC hospital inspections in 2015 found 34 reports contained criticism of a trust's implementation of the duty, but only 41 per cent of those went on to make any recommendations about how to improve. Six reports that made no reference at all to the duty of candour and 17 dealt with it superficially, usually allocating one or two lines to the issue.
It further found that while most hospitals complied with the standard in cases of severe harm or death, they were less likely to do so in cases of moderate or psychological harm. It also found variation between departments within trusts.
The report said: "As the body tasked with inspection and regulation, the CQC is not doing its full job when it notes substandard practice and fails to inform a provider of the necessary improvements. The need to ensure proper regulation is particularly pressing here because the duty of candour is a fundamental standard, which an NHS body should never fail to observe."
Professor Edward Baker, the CQC's deputy chief inspector of hospitals, said: "AvMA's review looked at CQC's assessment of the duty of candour requirement placed on NHS trusts during the first year of the regulation coming into force. During this period we focused on trusts' awareness of the new duty and the systems and processes they were putting in place to support its implementation.
"From these early inspections we identified the need for a more systematic approach to inspecting how well organisations are embedding the duty as part of their broader approach to learning from incidents and supporting people who use services and their families. We have since developed our methodology with input from AvMA, and this is now allowing us to follow a more robust and consistent approach in assessing the regulation as part of our hospital inspections. We will soon be rolling this out across all sectors."