NHS Confederation chair says new NICE affordability policy would "decelerate" drug access
Stephen Dorrell says Treasury was looking for "anything at any price to control cash flow"
Also warned Brexit would "undermine patient welfare"
Former health secretary Stephen Dorrell has warned allowing NHS England to postpone access to NICE-approved treatments will achieve the "reverse" of government plans to improve access to innovative drugs.
The National Institute for Health and Care Excellence confirmed last week that NHS England can delay access to approved drugs for three years if it will cost more than £20m in any one year of the first three years of implementation.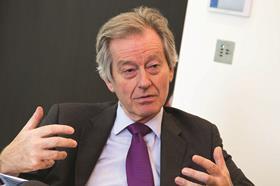 Speaking at a summit on rare diseases last week, Mr Dorrell, who is now chair of the NHS Confederation, said NICE's decision would result in access to medicines being "decelerated". This would achieve the "reverse" he said of the government's intentions "to speed up access to innovative" treatment set out last October in the accelerated access review.
The review said by accelerating access to new drugs and technologies it could "improve the international competitiveness" of the UK's life sciences industry. It added that following the decision to leave the EU the "industry will provide a crucial pillar for future economic growth".
Asked if the NICE proposals, due to be implemented from 1 April, "can be arrested," Mr Dorrell said: "The treasury is looking for anything at any price that controls cash flow, [it is] slowing down access to drugs in order to control cash flow".
Sarah Haywood, chief executive of MedCity, also speaking at the event, said it was "crazy" to think that difficulties in access to market would not have an impact on investment into medical research. She said: "Perception is very important to secure inward investment [and] I believe there is a very strong relationship between the perception of openness to market and the willingness to support… access."
Mr Dorrell was also critical of Brexit saying it would "undermine patient welfare".
He said the government's life sciences industry strategy and Brexit are "not reconcilable". He continued: "I can think of no more powerful illustrator of the damage that will come from Brexit than [the impact on life sciences], it undermines research, undermines pharmaceuticals and the funds available due to slower economic growth and for all of those reasons undermines patient welfare.
"The research scientific community is one of the most globalised on the planet… the idea you can take back control of 'British science' is nonsense on stilts and needs to be called out as such."
He also questioned whether it was in the "national interest" to no longer being involved in European Medicines Agency, which he described as one of the "most powerful medical regulators in the world".