HSJ uncovers nearly 400 more patients waiting more than a year for treatment
Official data said 722 patients were waiting more than 52 weeks as of January
Discovery follows revelation of 1,015 year-plus waiters at Barking, Havering and Redbridge
At least 378 more patients than previously thought have been waiting a year or more for planned treatment, HSJ has uncovered.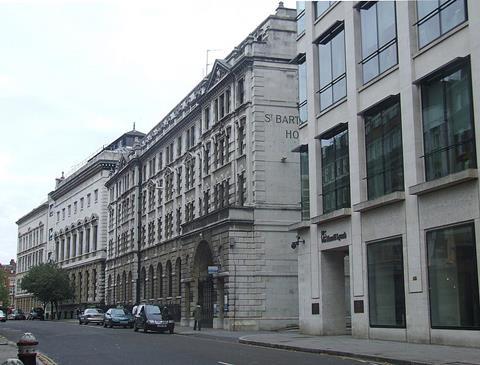 Barts had 106 patients waiting over a year as of January
The most recent official NHS England data, for January, shows 722 patients in England waiting 52 weeks or more for treatment.
However, this does not cover waiting lists at nine hospital trusts which have been allowed to stop reporting data.
HSJ revealed earlier this month that 1,015 patients were waiting more than a year for treatment at Barking, Havering and Redbridge University Hospitals Trust at the end of January.
We have now established that, across six of the other non-reporting trusts, there were a further 378 patients in this category (See box for trust totals).
This takes the total across all non-reporting trusts to at least 1,393 – nearly double the reported number. The figures were either requested by HSJ or appeared in trust or commissioner board papers.
In summer 2014 health secretary Jeremy Hunt announced there would be a drive to reduce the number of people waiting more than a year for treatment. At the time the officially reported number was 574.
Commissioners can fine providers £5,000 per patient who has waited more than a year for elective treatment, under national rules.
The nine trusts have been allowed to suspend reporting of their national waiting times figures by NHS England while they validate the data, and some have faced significant problems with information systems.
Barts Health Trust published board papers this month which reported it had 106 at the end of January – the third largest total. A spokesman said it was not clear whether some of these had in fact been treated but not removed from the waiting list.
The £1.3bn-turnover trust has faced substantial problems with data quality.
In November it announced a "data quality plan" to validate records for 315,000 patients whose waiting time status was unknown.
Waltham Forest Clinical Commissioning Group has ordered a repeat of a review of a long waiters because of further concerns about data quality.
Waltham Forest CCG chief officer Terry Huff said in a board paper: "Due to the inadequacy of the data quality, the investigation was unable to come to a conclusion…. We will be externally reviewing data quality prior to Barts Health returning to [national] reporting."
A serious incident was declared last month after 18,500 ophthalmology patients were found to have been missed off waiting lists. Barts has not reported its waiting times data since August 2014.
Walsall Trust had three patients waiting a year or more as of the end of January, but during 2015-16 to date had treated 541 who had waited at least a year.
Walsall interim chief operating officer Steven Vaughan said: "Our teams have been working hard to reduce both the number of patients waiting as well as the length of wait and we are pleased there has been a significant improvement over the last few months. This remains a focus as part of the trust's Year of Improvement and further reductions will be delivered."
A spokesman for Homerton FT told HSJ it would not be making this information available but may start reporting data again next month.
NHS Improvement has previously told HSJ it was aware of the large number of long waiters at Barking, but that it would not provide an estimate to HSJ of the numbers at other non-reporting trusts.
Last month HSJ reported that Great Ormond Street Hospital Foundation Trust had discovered around 7,000 patients who were not on its waiting list system. A GOSH spokesman told HSJ it would not reveal how many patients had been waiting a year or more, or when it planned to resume reporting.
| Trust | Year-plus waiters at end of January |
| --- | --- |
| Barking, Havering and Redbridge University Hospital Trust | 1,015 |
| King's College Hospital Foundation Trust | 171 |
| Barts Health Trust | 106 |
| Kettering General Hospital Foundation Trust | 57 |
| Wye Valley Hospital Trust | 26 |
| Medway Foundation Trust | 15 |
| Walsall Healthcare Trust | 3 |
| Homerton University Hospital Foundation Trust | Not known |
| Great Ormond Street Hospital for Children Foundation Trust | Not known |
Downloads
Excel, Size 10.02 kb

Excel, Size 1.91 mb

Excel, Size 11.8 kb