Jeremy Hunt tells international summit that avoidable rates for each trusts will be published this month
Mr Hunt says push for openness and "no blame" culture part of NHS learning from incidents
Experts have previously warned avoidable mortality rates for trusts would be "meaningless"
NHS hospitals in England will start to publish estimates of their annual avoidable death rates later this month, Jeremy Hunt has told a major patient safety summit.
Speaking at the event in London on Thursday, attended by health ministers and representatives from around the world, Mr Hunt said England would become the first country to report estimated avoidable death rates.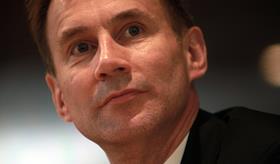 The health secretary has long advocated this measure of reporting be introduced as a way to focus hospitals on safety and reducing avoidable harm and death.
However, there is disquiet with the plans among experts who believe a specific rate is hard to calculate.
Professor Nick Black, from the London School of Hygiene and Tropical Medicine, has previously warned a rate for individual hospitals would be "meaningless."
Mr Hunt accepted there would be no way to compare hospitals to each other.
He said: "So following a request to NHS hospitals by Mike Durkin, NHS national director of patient safety, the NHS in England will this month become the first country in the world to publish estimates by every hospital trust of their own annual number of avoidable deaths.
"Methodologies vary, so the numbers cannot be compared, but it is a major step forward for every hospital trust to make their own estimate of avoidable mortality and be open about what they find."
He said NHS England was also working with the Royal College of Physicians to develop a standardised method for reviewing the records of patients who have died in hospital.
Mr Hunt told the delegates there were an estimated 1 million avoidable deaths each year in hospitals around the world with an estimated 150 a week in the NHS.
He said: "It is difficult to confirm the exact number because of variability in reporting standards, but if it is of this scale it sits alongside hypertensive heart disease and road deaths as one of the top causes of death in the world today."
Mr Hunt confirmed plans to launch the new Healthcare Safety Investigation Branch and a new independent medical examiner service from April 2018.
Hunt backs second inquest
The health secretary also threw his weight behind the campaign for a second inquest into the death of three-year-old Jonnie Meek at Stafford Hospital, whose case was highlighted by HSJ last year.
Mr Hunt told the summit the Department of Health was "now working with Jonnie's family to seek an order for a second inquest" after what he said was the "heartbreak" cause to Jonnie's parents as a result of the difficulty in establishing the truth about what happened to their son.
Mr Hunt said: "Time and time again when I responded on behalf of the government to tragedies at Mid Staffs, Morecambe Bay, Winterbourne View, Southern Health and other places I heard relatives who had suffered cry out in frustration that no one had been held accountable.
"But to blame failures in care on doctors and nurses trying to do their best is to miss the point that bad mistakes can be made by good people. What is often overlooked is proper study of the environment and systems in which mistakes happen and to understand what went wrong and encouragement to spread any lessons learned. Accountability to future patients as well as to the person sitting in front of you."
Mr Hunt said justice must "never be denied if a professional is malevolent or grossly negligent".
He cited a report from 2014 by Frontier Economics, which said poorer care "costs the NHS up to £2.5bn a year due to longer hospital stays, repeat visits and expensive litigation", adding it was wrong to say safe care was a choice against a balanced budget.