Nine years of data from NHS inpatient survey analysed by King's Fund
Data shows slight improvement in patient experience overall
Think tank urges trusts to use data to plan longer term improvements
There has been an improvement in patient experience within the NHS during the last nine years according to the first ever longitudinal study of the NHS inpatient survey.
The King's Fund and Picker Insititute analysed nine years of data from the annual survey of patients to explore trends and changes in how they have rated their time in hospital.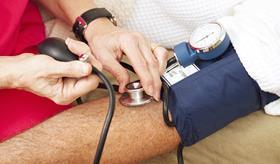 They found a net overall improvement in patient experience but the change over nine years was labelled as "modest" with "considerable potential to do better."
The survey began in 2002. In 2013, more than 62,000 patients across 156 NHS trusts answered the questions.
The think tanks analysed data between 2005 and 2013 for all acute trusts in England looking at 20 patient experience questions.
The experts have made their full aggregated dataset available for trusts to use. The King's Fund said this was the first time longitudinal trust level data over this length of time has been made available.
The results, which were standardised to adjust for patient case mix, showed the national mean scores increasing for 14 questions.
Questions where trusts improved patient experience scores included:
Was your admission date changed?
Did nurses talk in front of you as if you weren't there?
Were you given enough privacy when being treated?
Overall, did you feel you were treated with respect and dignity?
Patients rated their experiences of waiting for a bed on a ward, hospital food and delayed discharges as low and the results had the widest variation between trusts.
The report said areas where there had been a strong national policy focus, such as cleanliness, patient accommodation and waiting times, showed consistent improvements.
It concluded: "Our analysis also demonstrates that much of the year on year change in trust scores for individual questions is random variation rather than a statistically meaningful change or indication of a consistent direction of travel. Where changes were statistically significant, they were generally small (with the notable exception of cleanliness)."
It added: "Our analysis shows negative trends in patient reported experience where there are well recognised pressures in the system, such as length of wait for admission to a bed on a ward and timely discharge. Furthermore, there remain areas where performance is generally low and needs to improve, and there is considerable potential for reducing variations in performance between trusts, as well as raising overall levels of performance."
Veena Raleigh, senior fellow at the King's Fund told HSJ: "We didn't see seismic change over nine years, I would say it is more a question of incremental changes.
"For most trusts we saw improvements in some areas and falls in others but there was a net improvement overall."
She added trusts should take a longer view and use the data to target their improvements.
She said: "This is nine years of very rich data. It is what patients are telling trusts about the quality of care they have received with detailed points for action. Trusts should look at this together with their local context to make improvements.
"Policymakers, commissioners and regulators must also recognise that sustained improvement in the experience of hospital inpatients is unlikely unless the pressures in the wider health and care system ease."