Raj Jain to be announced as new chief executive of Salford Royal Foundation Trust and Pennine Acute Hospital Trust
Will take over from Sir David Dalton in April
Two trusts due to merge under new "group" structure
Two major NHS trusts in Greater Manchester have appointed a replacement for their departing chief executive, Sir David Dalton.
Raj Jain, who is currently Sir David's deputy, is set to be announced as the new chief executive of Salford Royal Foundation Trust and Pennine Acute Hospital Trust.
The two trusts are due to merge under a new "group" structure named the Northern Care Alliance.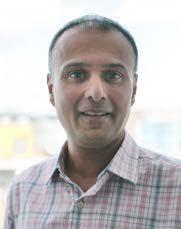 Raj Jain
Mr Jain is also chief strategy and organisational development officer at both trusts. He is a former chief executive of Liverpool Heart and Chest Hospital FT, and managing director of Greater Manchester Academic Health Science Network.
He will take over the chief executive role in April.
The role was advertised externally over a three-week period in November, although when Sir David announced his departure last year, he said the appointment of his successor would be "consistent with the group's talent management programme and succession planning process".
The trusts said more than one candidate applied, but would not comment when asked how many were interviewed.
In a message to staff this morning, the trust's joint chairman, Jim Potter, said: "We take pride in investing in our staff and nurturing and developing good leaders. We recognise the positive impact of leadership excellence and continuity on the long-term sustainability of a high-performance culture.
"The NCA has developed an exemplar talent management programme and robust succession planning arrangements, which wholly reflects this ethos and contributed to the rigorous assessment of suitability for this appointment…
"We are indebted to Sir David Dalton for his significant contribution to Salford Royal and latterly across the Northern Care Alliance; his legacy will continue to benefit our patients and service users, this organisation and its people for many years."
Mr Jain told staff: "Leading the hugely talented and committed people of the NCA is an immense privilege and honour.
"I have worked in Greater Manchester for nearly 30 years, and have seen great progress in the health and wellbeing of the citizens of Greater Manchester. My burning ambition is to support the people we serve, our staff and partners to achieve even more, even in the most challenging of times."
Source date
28 January 2019