NHS England document outlines how £3.97bn will be invested in mental health by 2020-21
£1.8m pilot scheme for six regions to take on new commissioning powers for tertiary mental health services
£12m in the next two years to expand services that make mental health assessments available to those arrested
NHS leaders have spelled out how mental health services will get an extra £3.97bn investment over the next five years.
NHS England has outlined how much cash will be invested in the sector by 2020-21.
Its new report, published on Tuesday, takes the Five Year Forward View for Mental Health as a blueprint and describes what extra cash and staff are needed to bring about the recommendations it made in February.
The four main areas which will see an immediate investment are:
National director for mental health Claire Murdoch said the document acted as a roadmap for achieving the recommendations of the Mental Health Taskforce.
She added: "This roadmap for implementing the Five Year Forward View for Mental Health will improve access and outcomes, reduce inequality and deliver efficiencies across the local health and care economy.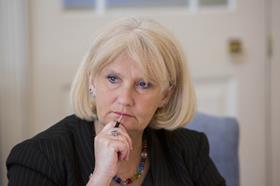 "As well as setting out our expectations of the NHS, we have outlined how national partners will work together to provide the right enabling structures and frameworks, to support and help drive improvements in mental health over the coming years.
"Other organisations who have a role to play such as social care, employers [and] schools are also paramount to the success of this work. The need for action cannot be ignored. It is now up to all of us to make this a reality."
The report sets out £3.97bn of investment which it says is needed to meet the recommendations of the Mental Health Taskforce.
It describes the extra £1.4bn promised for children and young people's mental health over the next five financial years, with £30m a year being set aside for eating disorders.
Clinical commissioning groups will get an extra £913m over that period, with other major investments including £115m for Health Education England to commissioning new training places for the children and young people's improving access to psychological therapies programme and £52m for staff and training.
It also says 1,700 more therapists and supervisors will be needed to deliver the CYP IAPT expansions as part of helping 70,000 additional children and young people receiving evidence-based treatment a year by 2020-21.
Perinatal mental health will have £105m invested in it nationally over the next three financial years to develop the workforce. NHS England will set up a perinatal community development fund during 2016-17 to invite bids from local areas – including sustainability and transformation plan footprints – to begin to develop specialist teams and to improve quality, with a particular focus on areas of under-capacity.
Once the bids and workforce are developed CCGs will receive £171.5m over 2019-20 to 2020-21 to provide specialist perinatal mental health services.
Adult mental health will receive an extra £806m for common problems and £1.2bn additional investment for community, acute and crisis care. Part of the investment will see 3,000 new mental health therapists co-located in primary care to help 1.5 million people with common mental health conditions access services each year – a quarter of the total need.
In the first two financial years an extra £108m will be invested in integrating physical and mental health services, with £17.8m 2016-17 and £54m in 2017-18 directly funding training new staff and delivering new "early implementer" integrated services. Another £38m will be invested in supporting other training, quality improvements and expanding IAPT services.
A total of £94m has been set aside for secure care pathways over the next five financial years, with £1.8m to be given to six regional provider groups to develop new care models for low and medium secure adult mental health care and tier four children and adolescent mental health services as well as other specialise mental health services.
The majority, £58m, has been set aside for 2020-21 for NHS England to invest in mainstreaming the approach nationally.
Health and justice services will receive £92m over the next five years for liaison and diversion services, and suicide prevention services will receive £25m.
Paul Farmer, chief executive of Mind and chair of the taskforce, welcomed the new plan and said he would be "keeping a close eye" on its progress.
He added: "As chair of the advisory and oversight group I will be keeping a close eye on progress and helping to make sure that the services and government departments involved are on track.
"The implementation plan is a step in the right direction, but we cannot afford to become complacent. The job is just beginning and we must all play our part."
President of the Royal College of Psychiatrists, Professor Sir Simon Wessely, said: "In order to deliver the plans, the NHS needs to ensure the needs of its workforce are met as well.
"NHS staff are having a tough time at the moment, and we know that staff morale and wellbeing directly impacts on patient care.
"We are pleased therefore to see the health and wellbeing of the NHS workforce being taken seriously. Funding to support the development of plans to improve mental health support for NHS staff is money well spent."
Nearly £4bn pledged to mental health services
1

Currently reading

Nearly £4bn pledged to mental health services

2