Martin Watts shares his views on the 'complexity challenge' hampering current efforts to reduce the elective care backlog and explains how his surgical care teams are 'Rethinking Insourcing' with a different approach
In the past year, the NHS has made positive progress in reducing very long patient waiting times, with NHS staff working incredibly hard to treat more than 15 million elective care patients.
Sponsored by

However, ramping up elective activity to sufficient levels to tackle the tsunami of patients waiting a year or more still presents a tough challenge, and it already looks unlikely that targets for 2024-25 will be met.
The independent sector is supporting more activity than ever before, delivering around 9 per cent of all NHS-funded treatments. Yet, there is a limit to what small private hospitals can manage, many of whom don't have the critical care and recovery facilities to handle complex surgical patients.
The 'complexity' challenge
Recent studies by the Health Foundation note that a narrow infrastructure is a key factor preventing the independent sector from scaling up activity for certain types of care, stating, "simpler procedures are easier to scale up" and "it may be cheaper for ISPs to provide high volumes of lower complexity care". Their studies show that simpler procedures (typically ophthalmology) form a significant portion of the increase in independent sector provider activity to date. Within that specialty, the disparity is obvious when comparing the ISP share of simple cataract work with more complex inpatient vitreous retinal procedures.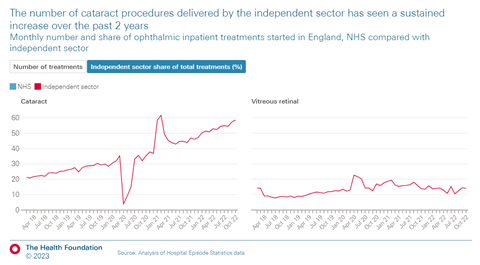 This focus on low-complexity procedures, by both private hospitals and traditional insourcing providers, has helped to ramp up overall elective activity, but has also created a bottleneck problem. A large portion of the remaining backlog is now complex patients that can't easily be referred to private hospitals or treated safely via traditional insourcing providers. Ordinarily, these patients would follow normal NHS pathways and be operated on by the NHS teams that are working day in and day out to clear the backlogs. But with the current high volumes of urgent (non-elective) activity, and ongoing bed shortages, ring-fencing sufficient theatre time to treat these patients is incredibly challenging.
Using the American Society of Anesthesiologists risk stratification system, surgical patients are deemed to be complex, (and classed as ASA3 or higher) if they have a long-term condition, like diabetes or chronic obstructive pulmonary disease, or a heart condition, or even just a high BMI. This perceived bottleneck of complex patients is difficult to quantify, since not all patients on the waiting list have been assessed yet, but nurses working in NHS pre-operative assessment clinics are increasingly telling us that they aren't seeing ASA1s and ASA2s on their lists anymore. Very few patients waiting for surgery are fit and healthy and with existing conditions often worsened by long waits, volumes will continue to grow.
Rethinking insourcing with a new model
I've spent the past 20 years managing surgical waiting lists, working both for the NHS and private sector insourcing providers. When I joined Medacs in 2021, I wanted to build a brand-new insourcing model that would integrate more effectively with NHS teams and support the delivery of all elective procedures including the complex ones.
I'm proud to say that we've achieved that, and Medacs is now helping the NHS to truly offer a seven-day elective service, ensuring one in every six of the patients we treat is classed as ASA3 or higher.
How are we doing that safely? We're fully involving local NHS staff in what we do. When extra theatre professionals are needed, we make sure they're properly inducted and adapted so they can quickly form part of a trusted and cohesive team. These "allied" teams have the familiarity and the experience to safely take on more complex cases, and they're used to negotiating arrangements with interlinked services like recovery and discharge when overnight monitoring is required.
We work closely with all departments on rota planning, to ensure we are not overloading NHS staff, but many are already doing weekend agency work, and the Medacs model gives them a way to do that on their home turf. The overwhelming feedback we receive from NHS staff is gratitude for an opportunity to earn above market rates, working in their own trusts in a calmer, less pressured and more productive environment. Patient safety is paramount, and research shows that in a familiar setting (such as their local hospital), patients are less anxious and less likely to cancel their appointment.
We're now working hard to "get the word out" about the success of our new insourcing model and above all, proud to be helping more NHS patients to get the surgery they need sooner.
Please visit our website for more information.