Martin Watts explains how insourcing services can be more effective when better integrated with day-to-day NHS activities
As the Elective Recovery Taskforce urges NHS leaders to maximise available support from the independent sector, it is vital that the merits of more integrated, collaborative approaches are not overlooked.
Since the pandemic, independent insourcing providers have played a key role in the elective care recovery, bringing their own clinical teams to work in NHS operating theatres out-of-hours and carry out more routine elective care activity. These extra add-on services have helped the NHS considerably but are often standalone services with little or no integration with day-to-day NHS activities.
Sponsored by

As someone who has spent over 20 years managing NHS waiting lists (working both directly for the NHS and for private insourcing providers) I can see a clear route for the NHS to get more value.
My focus here is on using insourcing to support surgical pathways, where I've seen a more NHS-integrated working model delivering real benefits. Surgical insourcing providers already use existing NHS operating theatres, but most work independently, out-of-hours, simply topping up ongoing NHS activity. It makes much more sense to bolster the core operation and use extra support in a more integrated and embedded way.
Here is a basic summary of how an integrated surgical insourcing model differs.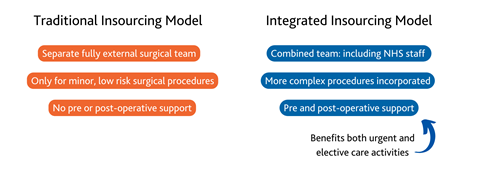 Integrating extra staff to form 'allied' teams
Effective "allied" teams are built by drafting in a regular cohort of extra theatre workers to work alongside NHS teams and giving them full training and systems access. Insourced sessions are then planned in for weekdays and weekends, using regular workers from both sides, with local NHS staff incentivised to do extra weekend shifts on a rotational basis. The extra workers support local NHS staff during the week, and the local NHS staff lend their experience to weekend sessions. The result is established and highly capable "allied" teams, that can be trusted to do more, seven days a week.
With extra, trusted workers involved, senior staff can be spread out to cover more surgical teams. The extra support from insourcing managers with list planning and rotas also means that more sessions can be planned overall, focusing on clearing all long-waiting patients, instead of simply passing segmented chunks of low complexity elective work to separate insourcing teams to do in quieter hours.
With more locally-led teams working alongside interlinked services, more complex surgical procedures can also be safely tackled – even out-of-hours. This is increasingly important as multimorbidity rates rise and the NHS struggles to clear patients with long-term conditions that can't be referred to the private sector. Using this integrated model, at least one in six of the patients our allied teams clear are now classed as clinically complex (ASA3 or higher).
Integrating support for interlinked surgical services
The integrated model can also be extended to support other interlinked parts of the surgical pathway such as pre-operative assessment clinics and post-operative recovery services.
While some traditional insourcing providers do provide nursing staff to admit, recover and discharge day patients, ongoing support for staffing and managing pre-assessment and post-operative services (everything from outpatients to 23-hour plus recovery or inpatient stays) is rarely offered as standard.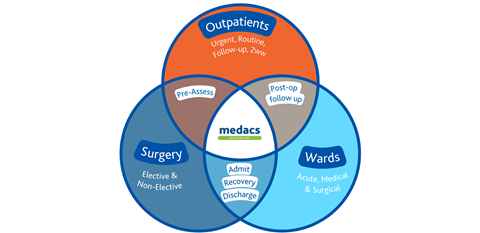 With extra staff embedded into pre-operative assessment clinics, more patients can be assessed and made ready to fill unexpected gaps on planned lists.
With extra recovery nurses embedded into existing NHS recovery wards, more elective and urgent surgical activity can also be supported, ensuring more staffed beds are available for both day cases and patients needing 23-hour plus post-operative care and beyond.
The Medacs insourcing model also integrates support for ancillary services like admin teams (booking and discharging patients), and clinical coding, with the accurate patient data generated, lending valuable support with tariff recovery, reporting and audits.
Feedback from NHS partners using the integrated approach has been 100 per cent positive so far, with all saying it helps them to do more, supporting increases in both surgical and acute, elective and non-elective activity.
To find out more about integrated insourcing models, contact me, visit our website or watch out latest video.