Councils engaged in efforts to integrate health and social care should stop competing for resources with the NHS and believing increased funding for the health service is "theft", the chief executive of the Chartered Institute for Public Finance and Accountancy has said.
Rob Whiteman, who is also chair of the north east London sustainability and transformation plan, also said some NHS officials had reported being spoken to like "an idiot" by their council counterparts due to a budget setting process that allows health organisations to go into deficit.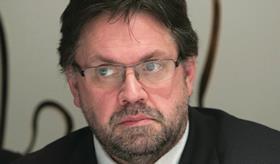 Speaking at the New Local Government Network conference on Tuesday, Mr Whiteman said there was a "culture game going on" between the NHS and local government within some STPs, Local Government Chronicle reports.
He said both parties need more money but warned councils not to treat the STP process as a "competition" for resources.
Mr Whiteman added: "My advice to local government is to stop acting as if financial growth in the NHS is theft and if money wasn't being put into the NHS, then you would get it – you wouldn't."
He said it was "perfectly reasonable" to say the NHS could be more efficient and needs more money, as health spending is increasing by 2 per cent while demand is rising by 4 per cent.
Mr Whiteman added that some council officials that are required to set a balanced annual budget had been dismissive of their NHS counterparts over finances.
He said: "[Local government] needs more money too and it is not a competition between the two.
"There is an undertone for local government which is 'you are crap at managing your budgets, you should manage them like us'.
"People on the health side feel it. They say: 'I speak to people on the council and they speak to me like I'm an idiot'."
Mr Whiteman called for an end to this approach and called on local government to "love your NHS, trust them, work with them".
His advice to NHS colleagues involved in STPs was to recognise the strength of local government in its political accountability and track record of making difficult decisions in demanding financial circumstances.