A recent HSJ webinar supported by Vantage Health heard that there is no one-size-fits-all solution to creating a new model of outpatient care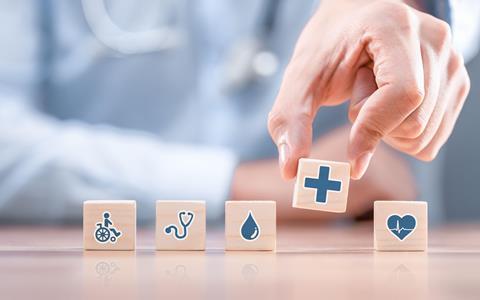 A few years ago, the healthcare sustainability team at the Royal College of Physicians began exploring key areas of waste in the NHS. One theme quickly emerged.
"Once we had started consulting with our members and fellows, we realised that outpatients was one of the bugbears of their lives, really," remembers Toby Hillman, consultant in respiratory and general medicine at University College Hospital Foundation Trust as well as an adviser to the RCP.
"We had noticed that patients were turning up when they didn't need to; that people felt that they were just doing things for a process. And so we thought that we would have a look at the whole system from start to end."
Sponsored by
The ultimate result was a report published in late 2018 which concluded the traditional model of outpatient care was hugely outdated.
"We found that really since the 18th century, not a lot had changed in terms of how outpatients ran. A family or community doctor would send the referral by letter – the same technology – into a hospital, and then a specialist would make an appointment, see the patient, dispense their plan and then make some actions based on that."
Whether from a social, economic or environment cost point of view, the researchers concluded, the outpatient model simply was not working. And, in the past few months, the pandemic has added to the ways in which the traditional model isn't suitable.
So in late October, HSJ brought together a small panel of experts – including Dr Hillman – to consider where things now stand. In an event supported by Vantage Health, they debated just what the future of outpatient care should look like.
As chief innovation and technology officer at Royal Brompton & Harefield Foundation Trust, Rishi Das-Gupta has long had outpatient delivery models on his agenda. The organisation is a specialist cardiothoracic trust, caring for patients across the country and often across their lifetime. Reducing unnecessary attendances is therefore particularly valuable, but has been more so during covid when many patients have been shielding.
Helpful, he said, had been careful thought about the reasons appointments were taking place – and consideration of what might support such a consultation taking place remotely.
"I think what we're now focusing on is: 'How do we manage a cohort of patients who are out in the community or outside our hospital walls, and how do we prevent them coming to the hospital?'
"We're trying to simplify the types of outpatient clinics that happen; really thinking through what are the four or five types of interactions that we have and then what are the things that support those kinds of interactions."
No one-size-fits-all solution
Technology is an obvious answer, but he emphasised that there was no one-size-fits all solution. Telephone, video, and remote monitoring and diagnostics will all be relevant. "And it's a mixture of clinical, operational and technological all coming together."
Alan Selwyn sits at the other end of the pathway, as a practising GP and the IT lead for Brent Clinical Commissioning Group. And he made clear that the outpatient model was no more satisfactory from his point of view than from that of those working in secondary or tertiary care.
"One of the worst stress points for GPs is referrals. I've torn my hair out for 30-odd years trying to improve things, but battling against a system which is complex, unmoving," he said.
"It's one of the riskiest processes that we GPs get involved in, either referring or not referring, or referring to the wrong place. And it creates a lot of complaints from patients, frustration. A lot of admin time spent chasing up things that haven't happened properly."
He agreed with Dr Hillman that the system was "quite clearly" already broken before covid. But he did say that the pandemic has served to accelerate progress towards a future that many felt was already long overdue. Every interaction with his surgery now goes through an electronic system, and referrals benefit from computer support to ensure the right patient is going along the right pathway.
"We have about 150 mandatory referral pathways in our area now and, if we don't follow them to the letter, the referral gets bounced back to us," explained Dr Selwyn. "It's impossible to know those referral pathways, they're just so complex, but it is absolutely designed for IT to fit into. We code our information, so the IT system can interrogate those codes and match them against algorithms of acceptance into the outpatient system."
The setup is provided by Vantage Health, whose head of transformation, David Ezra, said clinical engagement is vital to any technology solution posited as improving outpatient care.
"Our experience is very much about sitting down with clinicians, both in primary and secondary care, looking at these pathway maps that they've developed, and actually seeing how we can embed them within the processes, in their daily workflow, to actually make them work."
In other words: using techniques that would have been unimaginable in the 18th century to make outpatients work in the 21st. Dr Hillman argued that covid "has completely transformed the conduct of outpatient clinics". But ensuring that change persists, and that no patients are left behind as technology becomes more central, will be the next key challenge.
Alan Selwyn's GP practice has moved to all interactions coming in via an electronic system. But that is not to say that all patients' contact with the practice is purely electronic. In around 30 to 40 per cent of cases, contact continues via the telephone with staff then using the digital setup.
"We have to make sure that we're not excluding a group of people who are simply unable to use technology," argued Dr Selwyn at a recent HSJ webinar.
Similarly, Toby Hillman is clear that the future model of outpatient care is not for now predicated solely on use of technology. "It is still very clear that, actually, you can't do everything down a phone line or over an internet connection," said Dr Hillman, a consultant in respiratory and general medicine.
"Seeing patients face-to-face, performing in-person assessments, is absolutely vital in some situations. So I don't think anybody is advocating a move to a one size fits all.
"But by using technology we actually create capacity to allow those who aren't able to deal with technology to receive the same standard of care as they were used to."
The free webinar can now be watched here.